Tips For Buying A New Office Printer
| | |
| --- | --- |
| Do's | Don'ts |
| Find a good printer deal and check the price of cartridges | Buy a printer because it is on sale |
| Check how many pages a cartridge is quoted as doing | Assume cheap cartridge are better value |
| Read user reviews online | Blindly follow in-store recommendations |
| Consider different brands | Just buy Kodak because "they're cheap" |
| Think what you'll print most in your office | Buy a top-pick printer thinking it suits you |


Key Questions:
How many pages does the black cartridge do?
Our office gets through a big mix of colour and mono prints, so we need cartridges with equal yields. Does your office? Maybe you need big black cartridges if you a) spend a lot on my black printing or b) keep having to replace the black cartridge.
Does my office print customer-facing documents?
If you print presentational media in-house you'll need printers with significant photo printing quality whereas if it's the office workhorse with countless memos and meeting papers you'll be happy with a mono.
Are we an eco-friendly office?
Trying to cut down on paper? A printer with Duplex is a must.
Are we printing secure documents?
Higher range printers give user profiles, some even go as far as logins to let your file print, a perfect way to ensure no one lays eyes on important pages.
Do I need or want any of the following features?
| | |
| --- | --- |
| Feature | What it does |
| AirPrint | Print directly to your printer from an Apple device |
| Colour | Mono printers are far cheaper to buy and run than colour. If you don't need it, don't buy it |
| Duplex | Printing onto both sides of the page automatically, a big time and paper saver |
| ePrint | You can email your printer documents and it will automatically print them, perfect for working outside the office |
| Fax | Does your office still fax? |
| Networking | Can either be via Ethernet or Wireless |
| Paper Trays | Extra paper trays are critical if you want to save time replacing reams |
| Wireless | Can connect wirelessly to your network. This DOES NOT mean it also has a physical network port. |
Make a list of what features and requirements you need then start your shopping. Good luck!
The Best Printer For An Office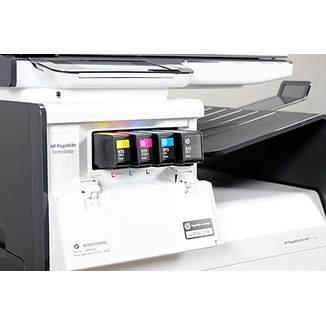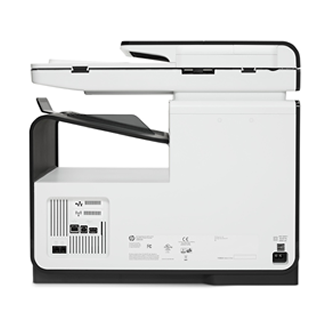 Reviewed on: May 2017
Our previous Best Buy office printer was the incredible HP Officejet Pro x476dw, something we know a large number of our customers purchased and loved. These printers are now superceded by a new range of Pagewide Pro machines and the 477dw has taken this best buy mantle, bringing everything that was good about the Officejet Pro range and improving upon it.
Crazy fast print speeds, excellent print quality, very easy to use and a wide range of features make it an all round excellent machine. These are now the printers being used in Stinkyink offices and we couldn't be happier. Read the full HP 477dw review here.
Key Features:
Fast prints; High-capacity cartridges; USB; Ethernet/Wireless; ePrint.
Perfect for you if...
You print over 500 pages a month, need colour and cheap running costs with fantastic, fast print quality.
Cartridges: HP Pagewide Pro 477dw Ink Cartridges
Also worth considering: Canon Maxify MB5350 , Brother HL-L9200cdtw
Order the HP Pagewide Pro 477dw Printer
The Top Budget Office Printer
Reviewed on: May 2017
You'll be hard pressed to find better printing value than the WF-2760dwf from Epson. A huge list of functionality, cheap to buy up front, and while the Epson original inks for it are economical the WF-2760dwf really shines if you use compatibles, giving stunningly low costs-per-page that only the highest volume printers will approach.
The functionality is just as good as other office printers, with networking, wireless and duplexing all available. Overall, a top notch printer for a smaller office. Read the full Epson Workforce WF-2760dwf review. Wondering what the letters at the end of the model mean? D means it has a duplex, W is wireless and F is fax :)

If you want a slightly heavier use printer and aren't fussed about some of the extra functionality take a look at the Canon iB4150, it's a fantastic all round machine for small-to-medium offices.
Key Features:
Fast prints; High cap cartridges; Wireless; Duplex.
Perfect for you if...
You print over 300 pages per month, need colour, and want to keep your initial costs & running costs down.
Cartridges: Epson Workforce WF-2760dwf ink cartridges
The Best A3 Office Printer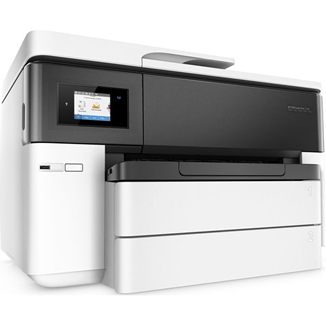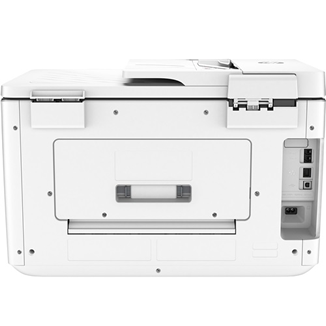 Reviewed on: May 2017
Brother has long had a monopoly on the A3 office printer market, as no other manufacturer really bothered to target it. HP have released the Officejet Pro 7740 which changes that however, giving an excellent machine that takes top spot in our A3 office recommendations.
With AirPrint support, Near Field communication, 2 paper trays and an ADF to support excellent print quality, the 7740 is a fantastic all round printer that is ideal for anyone needing office printing at A3 size. Read the full HP Officejet Pro 7740 printer review.
Please note; A3 recommendations are difficult. A3 is such a niche requirement that users differ hugely in what they need. If you require a heavy duty A3 office printer then it will set you back a fair bit, we'd advise checking out the Xerox Phaser 7500. After a larger selection of A3 machines? The only consistent producer of A3 office machines are Brother, so check out their MFC range for a selection of A3 printers. They're all nearly identical in performance, print quality and reliability and are solid 7/10 printers across the board.
Key Features:
A3; Quality plain and coloured prints; Wireless;
Perfect for you if...
You need to produce high-quality marketing materials up to A3 size, with good quality printing.
Cartridges: HP Officejet Pro 7740 ink cartridges

Buy the HP Officejet Pro 7740 Printer
Best Mono Office Printer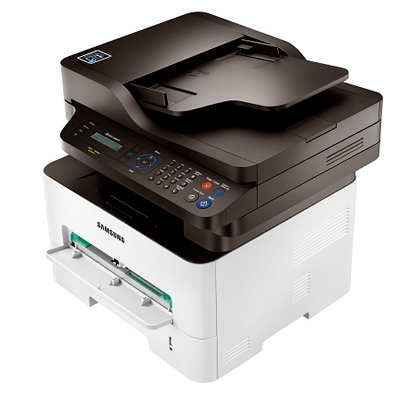 Reviewed on: April 2017
Samsung has somewhat of a monopoly on this slot, with the previous top recommended M2835dw being replaced y the fantastic Samsung Xpress M2885fw printer. This printer has it all, automatic 2-sided printing, wireless, a comprehensive feature list, bonus paper trays and more. It's a beast of a machine that very much deserves it's best mono office printer of 2017 recommendation. Read the full Samsung Xpress M2885fw review.
Key Features:
Wireless; Duplex; Fast prints
Perfect for you if...
You need a fast mono laser with low running costs.
Cartridges: Samsung M2885fw toner cartridges
Also worth considering: Canon i-Sensys MF6180dw
The Best Office Colour Printer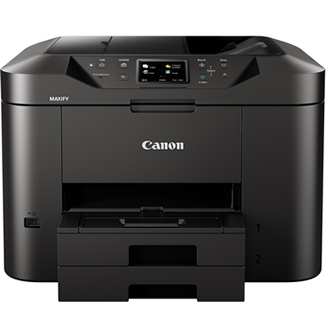 Reviewed on: May 2017
For 30 glorious months the canon MB2350 sat atop our recommendation here, until Canon made it End of Life and it became very hard to get. Lo and behold, once it's successor came to light and we tested it, the performance was just as good and another top recommendation was born.
With a whole host of functionality, excellent running costs and (most importantly) fantastic print quality, the Canon Maxify MB2755 is one of those rare beasts that can do it all, and do it all relatively cheaply. Read the full Canon Maxify MB2755 review.
If you want a more recent printer that can still handle office documents but don't need as office-orientated a printer as this Canon, check out the new Canon Pixma TS6050 printer. If you need higher volume but are less fussed about the photo-level quality of the colour prints, take a look at our overall Top Office Printer the HP Pagewide Pro 477dw.
Key Features:
Wireless; Duplex; AirPrint compatibility; 2 paper trays
Perfect for you if...
Your office relies on the quality of your colour printing but also needs multi-function capability
Cartridges: Canon Maxify MB2755 ink cartridges
Also worth considering: Canon Pixma TS6050, HP Pagewide Pro 477dw
Order the Canon MB2755 Printer
Our Other Printer Buying Guides
We have guides for pretty much any printing requirement, so whether it's a new home machine for your inner-artist, or a cheap printer to send away with a student, we have you covered.