Reviewed on: April 2017
Suitable For
Any small-to-medium office that needs a mono printer. The fact you can't add extra paper trays means the printer isn't ideal for super-busy offices, as it only has a 250-sheet paper tray and 40 sheet automatic document feeder, but otherwise it's an excellent option. It's even pretty small for a multi-function mono printer, with a tiny footprint of 14.4h x 15.8w x 14.3d inches.
Features & Connectivity
This multi-function mono is advertised by Samsung as a 4-in-1, and comes with a pretty decent feature set for the price:
Fax
Wireless
Duplex (2-sided printing)
NFC-enabled mobile printing
Copy and scan
Google Cloud Print & Apple AirPrint
Wireless printing with Samsung app
Automatic Document Feeder (40 sheets)
250 sheet paper tray
There's also a nice, easy to use menu on the front of the printer which makes utilising this functionality very simple. All you're really missing is extra paper capacity, otherwise you have the whole feature set a printer needs.
Print Speed & Quality
Strangely, Samsung advertise this machine as "Colourful scanning". Not quite sure how that works in a mono but, stupid headlines aside, the print quality and reproduction from this printer is excellent for the price.
This quality is supported by a decent speed of up to 28 pages per minute. While there are faster machines out there, unless you're printing a huge amount of pages in big chunks (which makes this printer not suitable due to limited paper tray space) the print speed is more than good enough. What is also nice is the first-page time, with around nine seconds between pressing that "Print" button and the first page being finished. Speedy.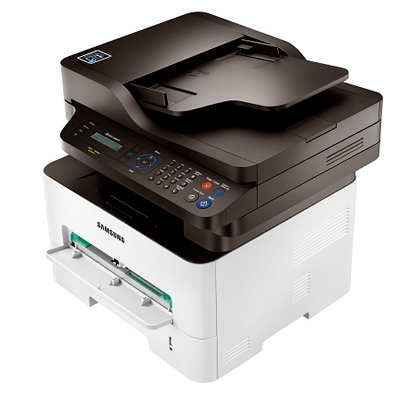 Cartridges & Running Costs
The toners for this printer come in two capacities: 1,200 pages at the standard capacity cartridge, 3,000 pages for the higher capacity ones. These install into a drum in the printer, which you purchase separately and has a life of up to 9,000 pages before needing to be replaced. It's simple and easy to use, exactly what you want in an office printer.
Running costs? Well, they're pretty darn cheap! Even if you choose to purchase the Samsung M2885 printer and only use Samsung original cartridges, your running costs work out around 1.6p per page (ex vat). Not too bad for such a small, efficient printer.
If you're willing to use our compatible Samsung MLT-D116L toner your costs plummet even further, to less than 0.56p per page.
Who Should Buy This Printer
A fast, simple, no nonsense printer that is suitable for most offices. If you need a mono, multi-function printer that doesn't take up much space; the M2885 is for you.