Reviewed on: May 2017
Suitable For
Any busy home user/office, or small-to-medium offices that need colour printing where quality and running cost is important. Image printing is impressive for an office machine, making it ideal for handouts or presentation work (as long as you don't need borderless documents).
Features & Connectivity
The MB2755 Canon Maxify printer gives all of the important functionality you expect:
Wireless
AirPrint, Google Cloud Print & Canon Print
Ethernet & USB Connectivity
50-sheet Automatic Document Feeder (ADF)
Duplex (2-sided printing)
Two 250-sheet paper trays
3" touchscreen
Really the only crucial feature we would look for that the MB2755 doesn't have is 2-sided scanning. This means you have to manually feed double-sided diocuments through, not too important if you do little scanning, but if it's important you'd be better with a printer that has 2-sided scanning. Bigger paper trays may also have been nice, but if you require more than 500 pages at once you may be better suited to a higher duty printer.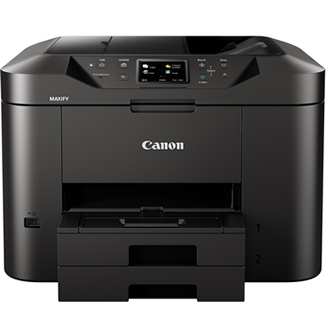 Print Speed & Quality
This printer isn't the fastest in the world, it's an inkjet printer that doesn't use Pagewide printhead technology like the HP Pagewide series we recommend for heavier duty offices. However this doesn't mean it's too much of a slouch. The MB2755 clocks in with roughly 11 pages per minute on short print runs (think up to 8 pages). This is swung by the time-to-first-page when you send a print, so if you typically print in larger batches, say a 25-page document, you'll be getting closer to 15-16 pages per minute. Interestingly the duplex functionality didn't slow this by much, averaging between 10-11 pages per minute on the auto 2-sided printing; not too shabby!
Print quality is superb for an office machine. Text printing is more than good enough - it's not as crisp as laser printers are at lower font sizes, but otherwise everything looks crisp and clear. Colour prints are where the MB2755 really stands out, with excellent graphic and presentation reproduction. This lends itself to promotional and handout printing, and is one of the major benefits this printer has over laser colour printers where handouts typically appear faded, purely due to the difference between ink and toner reproduction.
Cartridges & Running Costs
The Canon MB2755 printer takes a mix of 4 coloured cartridges; 1 each of black, cyan, magenta and yellow. These only come in one capacity, up to 1,200 pages on the black and between 900-1,000 pages for each of the three colours. Each colour is easily installed into the printer,
Running costs are where the Canon MB2755 really excels. Using the Canon originals works out around 1.2p per page when purchasing the multipack, which covers full colour printing across all 4 inks, excellent value. You can save even more money if you're willing to use our excellent compatible inks for the MB2755. These come in at 1.15p per page, amazingly cheap for the quality you'll enjoy.
Who Should Buy This Printer
Any home or office users that need a solid, all-round colour printer that can do standard documents, business documents and colour handouts equally well.