Reviewed on: May 2017
Suitable For
Any student, home or office that needs a cheap-to-buy and cheap-to-run printer that does it all. Great quality and a huge feature list make this a brilliant printer for the price, we can't find a printer that even comes close to the value of the WF-2760.
Important note: The Epson WF-2760dwf is getting harder to source, so if you're browsing the shops take a look for the Epson Workforce WF-2750dwf instead, it's basically the same printer and an equally good recommendation.
Features & Connectivity
Considering the low retail price of the WF-2760 (between £60-100 at time of writing), you get pretty much all the functionality you could possibly want, the value for money rating is off the charts:
Wireless
Scan & Copy
30 page Automatic Document Feeder (ADF)
Auto 2-sided printing (duplex)
Fax
Ethernet
AirPrint & Google Cloud Print
2.7" Touchscreen
150 sheet paper tray
NFC printing
Basically, lots of functionality in a cheap to buy printer. You can be efficient with your paper with the auto duplexer, and the addition of an AFG makes scanning large projects (here's looking at you, University) a breeze.
The notable features you're missing are printing direct from USB or a card reader, which is slightly made up for by NFC printing and the myriad of mobile printing options.
Print Speed & Quality
The WF-2760 is a decent speed machine for a budget printer, but don't be mislead by some reviewers comparing its printspeed to high cost laser printers or HP's pagewide office printers that cost significantly more to buy and are definitely not aimed at the budget market.
For 'normal' document printing you'll be looking at roughly 11 pages per minute (duplex drops this to 5 pages per minute). Mixed text and image documents slow to around 3 pages per minute, and photo printing is obviously the slowest measurement, with a full A4 print taking a few minutes to complete. As we mentioned at the start of this section, for a budget printer these speeds are more than acceptable - similar budget printers targeting home users are closer to 4 pages per minute for just text documents, so the WF-2760 passes this section comfortably for its price bracket.
Print quality from the WF-2760 is a pleasant surprise. Normally with budget office-style printers you sacrifice colour accuracy and text sharpness for the price, but the WF-2760 performs strongly for both. Colour graphics especially have rich colours, even photo prints come out well, far better than similar office printers. Text is accurate and sharp at smaller fonts; in short, we couldn't find a typical document to print that didn't come out very well.
The only thing to be aware of regarding quality is black depth falls off slightly when using the duplexer, presumably to allow for dry times so the printer can start printing on the second side. The blacks are still crisp and look okay, just slightly faded and not as rich as the single sided prints. Honestly, you'll probably not notice it when printing coursework or the like, but it's worth noting just in case!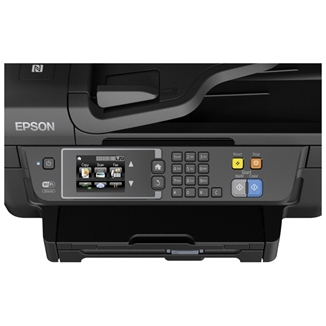 Cartridges & Running Costs
The Epson WF-2760 takes four individual colour cartridges in the Epson 16 / Epson Pen range; a black, cyan, magenta and yellow. You replace them individually as each runs out, minimising waste. As is normal for Epson printers they come in two different capacities. The standard capacity inks have a very low yield, with up to 165 pages in the colours and 175 pages in the black. This is a very small yield and should generally be avoided, sticking to the high capacity XL inks which give nearly 3x the pages; up to 450 pages per colour and 500 pages in the black. These yields are still slightly lower than you'd want in a shared or office printer, which means the printer isn't suitable for those with higher printing requirements (think over 1,000 pages a month).
Running costs for the original XLs works out close to 3.1p per page, a little on the high end compared to other (granted, more expensive) office printers. What changes the game though is the availability of compatible inks for the WF-2760. While the original costs are a little on the high side, compatibles crush this cost; at less than 0.5p per page. This is incredibly low and, when coupled with the low buy price of the printer, makes it an all-round amazing budget printer.
Who Should Buy This Printer
Anyone needing to print who is on a tight budget. The all round value you get from the WF-2760 is, frankly, ridiculous, with a mix of solid print quality, good speeds, varied features and cheap running costs (with compatibles). You won't find better value.
Important note: The Epson WF-2760dwf is getting harder to source, so if you're browsing the shops take a look for the Epson Workforce WF-2750dwf instead, it's basically the same printer and an equally good recommendation.