Tips For Buying A New Student Printer
| | |
| --- | --- |
| Do's | Don'ts |
| Find a good printer deal and check the price of cartridges | Buy a printer because it is on sale |
| Check how many pages a cartridge is quoted as doing | Assume cheap cartridges are better value |
| Read user reviews online | Blindly follow in-store recommendations for students |
| Consider different brands | Just buy Kodak because "they're cheap" |
| Think what your course will need you to print (essays? images?) | Rely on printing in the School/University campus |


Key Questions:
What Are Facilities Like Where I Am Studying?
Check the costs of printing at the University library or classrooms as they vary by department and establishment. Some will allow short print runs up to 5-10 pages for free etc. If you're able to do colour printouts for 1p a sheet then make a note and funnel your work through there, but if the costs are much higher a personal printer would be better.
What Will My Course Need Me To Print?
The type of work your course entails will dictate the style of printer and number of cartridges you need. Studying accountancy? You're going to need a lot of black and red ink, but your yellow will never be touched so individual ink cartridges are a must. Course include economics? You're going to need a lot of graphs and charts which will burn through all colours equally.
Can I Share A Printer?
If you're in housing or flat accommodation you may be able to share printer costs between housemates. This will help you buy a more expensive machine that is cheaper to run and can cater for you all. Just make sure to have agreements in place for who has ownership of the machine once you leave.
Will Any Of These Features Be Helpful?
| | |
| --- | --- |
| Feature | What it does |
| AirPrint | Print directly to your printer from an Apple device - great if you work/take notes on your iPad or iPhone etc |
| Wireless | A necessity if you're sharing a printer with housemates |
| Duplex | Printing onto both sides of the page automatically, a big time and paper saver |
| ePrint | You can email your printer documents and it will automatically print them. Handy if friends need an emergency printout |
Make a list of what features and requirements you need then start your shopping. Good luck!

5 Cheaper Printing Tips For A Student
You'll be printing a lot over the coming term, so we thought we'd share some handy tips on saving money when printing which you can put to good use and free up some crucial spending money.
1: Print Non-Project Documents In Draft Mode
Unless your document will be sent off for marking, save some precious ink and set your Printer Settings to "draft". This uses far less ink when printing but still gives legible documents, perfect for revision or worksheets.
2: Use Print Preview
Print preview is so overlooked you almost feel sorry for it, but it's a great way of seeing exactly what your printer will be trying to print, allowing you to cut out any waste or excess pages. A perfect example of this is Excel, how many times have you printed a spreadsheet and ended up with a page that has one last column on? Make your columns a few mm's smaller and you've saved a page, huzzah.
3: Fit More On A Page
Again, this is not for assignments that will be marked but is perfect for everything else. Shrink your font size by 1 or 2 points, reduce your line spacing and adjust your margins to fit more on the page and save on both ink and paper usage... Just make sure it's legible.
4: Duplex Where Possible
Double sided printing will (quite literally) halve your paper costs. Make sure you're using paper thick enough to handle ink on both sides, typically paper over 70gsm is fine, and you're good to go.
5: Keep Spare Cartridges
This is less of a cost-saving recommendation and more of a life-saving/stress-limiting recommendation. Remaining ink levels on cartridges are unreliable at best, and we can't quite sum up the feeling of horror when you're printing off your next deadline and a cartridge unexpectedly runs out. New printers don't let you print unless all of the cartridges are full, so if you don't have a spare you are in trouble. Don't take the risk, keep a set in the cupboard and order a new set as soon as you replace them.
The Best Overall Student Printer
The Epson WF-2760dwf is one of the rare printers that performs brilliantly, yet doesn't break the bank to use. You have all of the connectivity you need for networking and printing from mobile/tablet devices and when using compatibles the running costs are wonderfully cheap.
Print quality is great too, whether your course is image based or a whole load of text and graphs, and you can even throw in the occasional photo print with good results. Overall, a solid all-round printer that is perfect value for a student. Read the full Epson Workforce WF-2760dwf review.

The Epson WF-2760dwf is getting harder to find in stores yet the basically identical model, the WF-2750dwf, is easy to find. If you're interested in this machine check that out instead as their performance is so close.
Key Features:
Wireless; High cap cartridges; AirPrint; Duplex.
Perfect for you if...
If you need to print a wide range of documents throughout your course whilst having a tight budget.
Also consider
The Epson WF-2750dwf. It can be easier to find to buy than the WF-2760dwf and offers just as good performance.
Cartridges: Epson Workforce WF-2760dwf ink cartridges
The Best Student Printer To Share In A House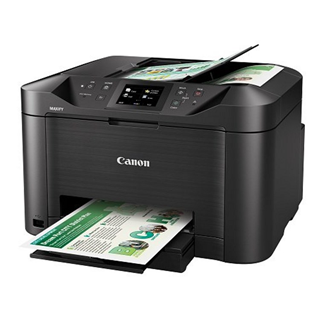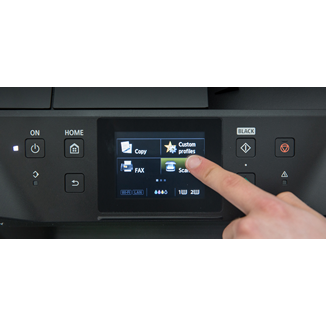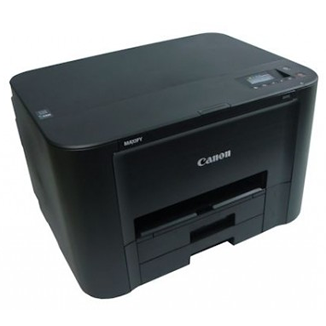 Sharing a printer can be a dangerous thing to agree to, small cartridge yields and fiddly functionality are just an invitation for arguments. However a shared machine can save significant amounts of money if it can tailor to multiple needs, and the Canon iB4150 does just that. It has excellent text and image printing, is comfortable doing draft work or presentation work; it can even do photos. With easy wireless functionality so you can put it in a shared room, large paper trays to keep it ticking over smoothly, or just ticks all of the right boxes.
Overall, though this printer is aimed at the office environment and would be an excellent choice, it is incredibly well suited to students sharing a workhorse and is definitely worth considering. Read the full Canon Maxify iB4150 printer review.
Key Features:
Wireless; High cap cartridges; Duplex.
Perfect for you if...
You're sharing printing with other students and need something cheap to run.
Cartridges: Canon Maxify iB4150 ink cartridges
The Cheapest Printer For A Student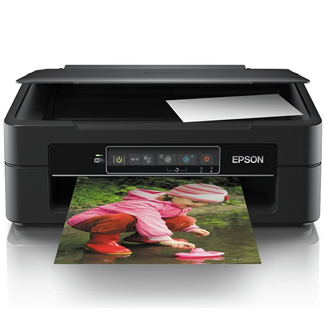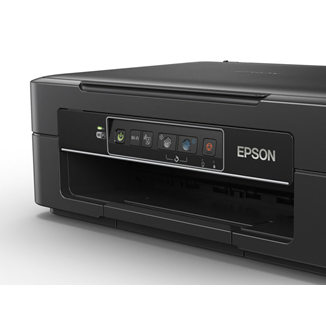 If you're looking for a cheap and cheerful printer as a student then you have two options, depending on how much you print. We've split them this way as, due to the technology Epson use in their printheads, if you don't print too often the printheads may clog and experience quality issues. It's rare but worth knowing!
If you expect to print more than a page or 2 a week then the Epson XP-245 is the perfect budget printer if you're willing to use compatible ink. It gives reliable performance, cheap running costs (which will only get cheaper as time goes on and compatible availability increases), wireless, scan and copy functionality, basically anything a student machine needs. Read the full Epson XP-245 printer review.
If you don't expect to print that often have a look at the HP Envy 5540. It is a 2-cartridge printer that has the printhead built into the cartridge instead of the printer. This means if you print very rarely, and end up with dried ink blocking the printhead, you only have to replace the cartridge, not the printer. Coupled with some great print quality and being very cheap to buy, it suits exactly what you need. The running costs with the cartridges are higher than other printers but this won't matter with how little you print. See the full HP Envy 5540 printer review.
Key Features:
Cheap to run; wireless; separate colour cartridges; small
Perfect for you if...
You want a cheap, easy to use printer, that gives good quality colour performance.
Also worth considering
A surprising number of users dislike Epson and HP! If you're one of them, take a look at the Brother DCP-J774dw. A solid budget machine that covers all of the bases.
Cartridges: Epson XP-245 ink cartridges
Our Other Printer Buying Guides
We have guides for pretty much any printing requirement, so whether it's a new home machine for your inner-artist, or a cheap printer to send away with a student, we have you covered.