Tips For Buying A New Home Printer
| | |
| --- | --- |
| Do's | Don'ts |
| Find a good printer deal and check the price of cartridges | Buy a printer because it is on sale |
| Check how many pages a cartridge is quoted as doing | Assume cheap cartridge are better value |
| Read user reviews online | Blindly follow in-store recommendations |
| Consider different brands | Just buy Kodak because "they're cheap" |
| Think what you normally print at home | Buy a top-pick printer thinking it suits you |


Key Questions:
How many pages does the black cartridge do?
Most home printers need a lot of black prints, whether it's normal documents or homework for the kids, yet there are still home printers available that have tiny-yield black cartridges. Make sure to check how many pages they do before purchasing!
How many cartridges does the printer take?
Choosing between a printer which takes 2 or 4 cartridges is a fine balancing act.
If you print more than a few pages every couple of days get one with more than 2 cartridges, you'll see cheaper running costs as you only replace each cartridge as-and-when it is empty.
If you print incredibly infrequently get a 2 cartridge printer, they typically use less ink maintaining themselves when you turn the printer on and off. Also, if the ink ever dries up from lack of use it will only block the cartridge, not the printer (as most 2 cartridge printers have the printhead built into the cartridge).
Am I going to print photos?
Just because a printer has colour cartridges does not make it a good photo printer. You need decent capacity cartridges that will handle the amount of inks photos take, and ideally choose printers able to handle special media and different types of paper.
Do I need or want any of the following features?
| | |
| --- | --- |
| Feature | What it does |
| AirPrint | Print directly to your printer from an Apple device. |
| Card Reader | If you use digital cameras or other card-devices a lot, a built in card reader slot saves a lot of time. |
| Duplex | Printing onto both sides of the page automatically, a great money-saver if your home printer does a lot of work documents. |
| ePrint | You can email your printer documents and it will automatically print them, perfect for leaving things ready for you at home. |
| Networking | Most homes will have wireless access now but if you need a wired connection make sure your printer has it. |
| PictBridge | Essential for budding photographers, some printers now even support Wireless PictBridge to automatically connect your camera. |
| Paper Trays | Extra paper trays and feeds are ideal if you find yourself printing on different paper frequently. |
| Wireless | Can connect wireless to your network. (This DOES NOT mean it also has a physical network port.) |
Make a list of what features and requirements you need then start your shopping. Good luck!
The Best Home Printer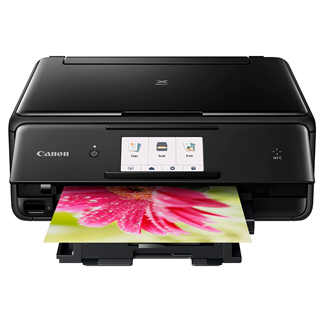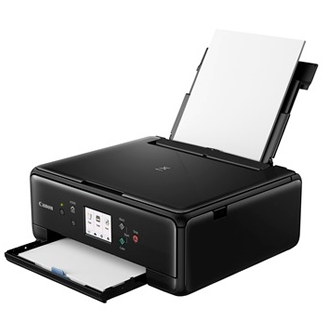 Reviewed on: May 2017
It was going to be a very good printer to supplant the MG7750 and boy have Canon delivered. The Canon Pixma TS6050 is one of the new smaller home office/photo printers in Canon's new range and it couples fantastic quality with a wide set of features.
While it's not the master of anything in particular, with some printers more suited for home-office work and some more suited for photos, as an all-round package it is hard to beat, especially for the price, and gets our overall Best Home printer recommendation. Read the full Canon Pixma TS6050 printer review.
Key Features:
Amazing photo prints; 2 black cartridges; Touchscreen; Duplex; Wireless.
Perfect for you if...
You want a printer that can do it all plus unbeatable colour printing results.
Cartridges: Canon Pixma TS6050 ink cartridges
Buy the Canon Pixma TS6050 printer
The Cheapest Home Printer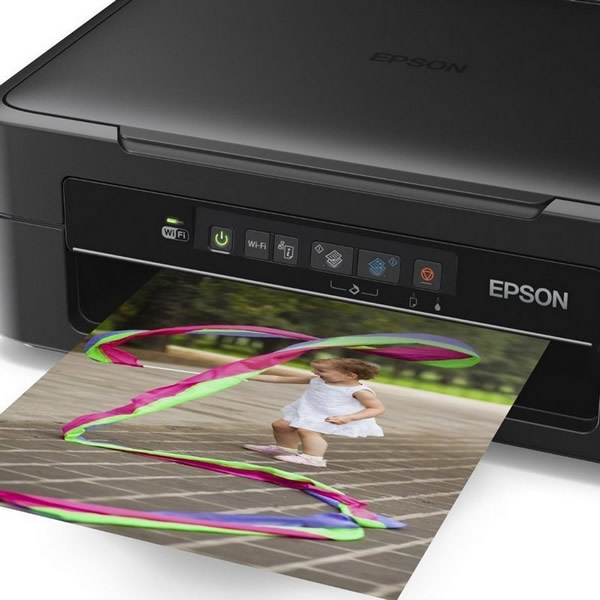 Reviewed on: May 2017
If you want a cheap and cheerful printer that can still give excellent quality (especially photos) then look no further than the XP-245. It has the best photo results from all of the budget printers we've looked at and, with easy installation and good reliability, it's a solid all round printer that ticks the budget boxes.
Whilst its running costs aren't the lowest just yet in the budget printer realm, they're pretty low and are only getting cheaper as supply of the compatibles becomes more readily available. With excellent quality, it's worth it. Read the full Epson XP-245 printer review.

Tip: if you print very, very rarely then you're best staying away from Epson printers as they may experience print quality issues with blocked printheads from inactivity. Try the HP Envy 4527 instead, a cheap printer that is far more suited to infrequent printing without breaking.
Key Features:
Wireless; Small; Scan & Copy.
Perfect for you if...
You need decent quality prints in the home but don't want to spend much, and are happy to use compatibles.
Cartridges: Epson XP-245 ink cartridges
Order the Epson Expression Home XP-245 Printer
The Best, Cheap AirPrint Home Printer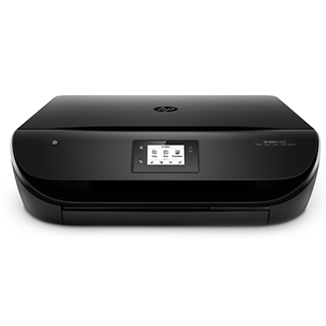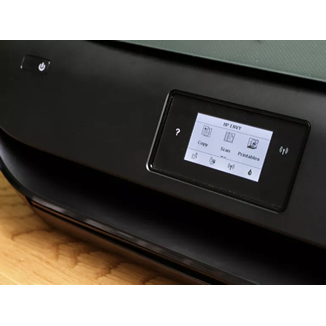 HP reviewed on: May 2017
If you're looking for a budget printer that supports AirPrint, and there are loads of you with iPads and iPhones, you'd do well to look at the HP Envy 4527. While it's not the cheapest printer to run, it's print quality is superb and you get some decent functionality for a printer that is incredibly cheap to buy.
We'd still advise spending a little extra and getting one of the 'better' AirPrint printers we recommend in our guide, but if budget is the way you want to the 4527 is perfect for you. Read the full HP Envy 4527 printer review.
Key Features:
Quality plain and photo prints; Wireless; Print from mobile devices;
Perfect for you if...
You want a solid, reliable printer that has AirPrint capability.
Cartridges: HP Envy 4527 ink cartridges
Best Single Function Home Printer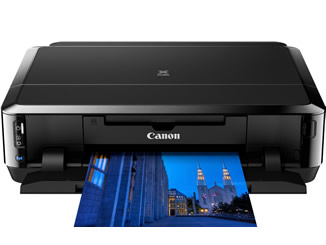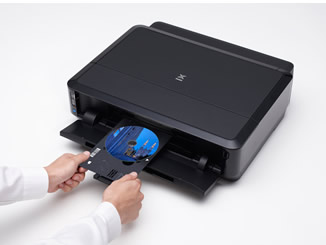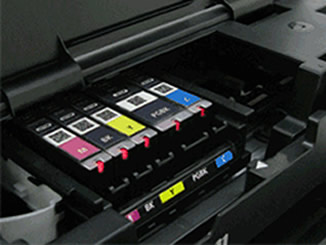 Reviewed on: March 2015 & May 2017
If you don't want any scanning or copying fuss, and simply want a printer that can print, you won't find better than the iP7250 for your money, even though we first reviewed it back in 2015. Print quality is excellent for any kind of document, and easy wireless & mobile connectivity (even Apple AirPrint) gives you plenty of options. It's not even that expensive to run, and taking 5 individual cartridges means you only replace what you use.
Make sure to give some photo prints a go, the iP7250 also rated as one of our top home photo printers. Read the full Canon iP7250 review.
Key Features:
Wireless; Duplex; Apple AirPrint
Perfect for you if...
You just want to print and love colour photos.
Cartridges: Canon Pixma iP7250 ink cartridges
The Best Home Photo Printer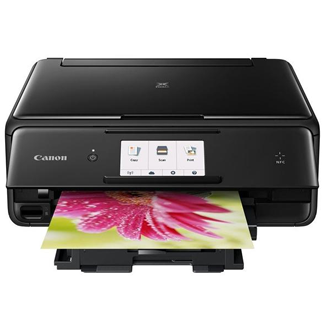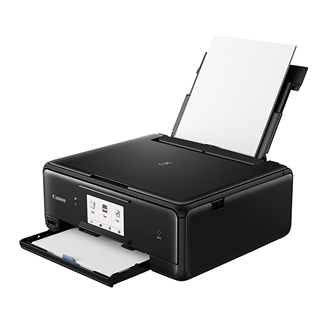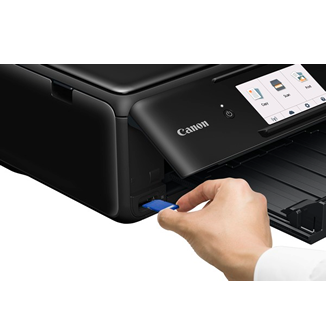 Reviewed on: May 2017
Canon's new range of Pixma TS machines are fantastic, none more so than the TS8050 which wins our top recommended home printer. Utilising an extra grey cartridge, the TS8050 has an increased colour gamut, giving more accurate colours, better gradients and overall amazing pictures. You'll love it no matter the photos you want to print.
It's also pretty good as an all round printer, in case you need more than just photos. Read the full Canon Pixma TS8050 printer review. If you don't want any multi-functionality, and just want a printer, our previous best buy is still available to purchase, the Canon iP7250.

Key Features:
Wireless; Duplex; AirPrint compatibility;
Perfect for you if...
You want photo's, which we assume you do, as you're reading this section.
Cartridges: Canon Pixma TS8050 ink cartridges
Buy the Canon Pixma TS8050 printer
Our Other Printer Buying Guides
We have guides for pretty much any printing requirement, so whether it's a new home machine for your inner-artist, or a cheap printer to send away with a student, we have you covered.