Reviewed on: May 2017
Suitable For
Any small to medium office that requires normal office printing functionality and the ability to go up to A3 in size. It has good print quality mixed with decent print speeds; a solid all round machine!
It's important to note that, while quoting a maximum monthly duty cycle of 30,000 pages, it's recommended duty cycle is up to 1,500 pages. If your office is busier than that, on average, you'd be more suited viewing some of the A3 Brother MFC printers (the only real manufacturer to focus on A3 inkjet printers at present).
Features & Connectivity
The feature list for the HP Officejet Pro 7740 is decent, which makes up for the fact that, at time of writing, it is quite expensive to purchase. For your money you'll see:
Up to super A3 print size
Automatic 2-sided printing
Automatic document feeder (35 sheet, single pass)
Wireless
Ethernet
Airprint, Google Cloud Print & HP ePrint
USB Direct printing
2.7inch LCD touchscreen
Two 250 sheet paper trays
Borderless printing
Print Speed & Quality
Print speed is still an odd thing to test in A3 machines; you're buying for A3 functionality, not speed. Regardless, the HP Officejet Pro 7740 is faster than the other value A3 offiec printers you can consider, working out around 19 pages per minute on normal documents. This is significantly faster than Brother and Epson A3 office inkjet printers. Time-to-first-page is also fairly speed, at around 12 seconds for a document. These print times obviously slow down when printing more complex images or documents, but you'll still get close to 10 papers per minute which is suitable for most users.
The main reason the HP Officejet Pro 7740 wins our top A3 office printer recommendation is the print quality. While Brother have traditionally had a stranglehold on this niche, the 7740 comes in with far better graphic print quality; long a weakness of the Brother machines. The printer is ideal for large presentation graphics and handouts, with rich colours and image reproduction. Sure, it's not up to the standard of dedicated photo printers, but you're buying a machine that can also handle the slog of an office, and the HP 7740 balances both of these very well.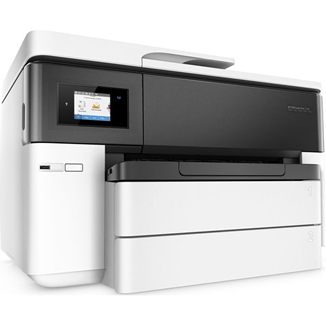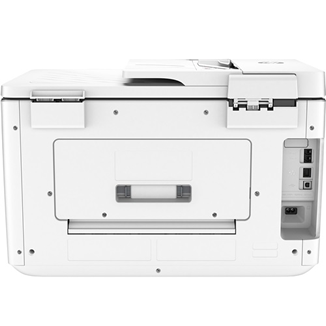 Cartridges & Running Costs
The Officejet Pro 7740 takes four individual colour cartridges that come in two capacity options. The standard capacity inks give up to 700 pages in the 3 colours and 1,000 pages in the black. The higher capacity versions double this, with up to 1,600 pages in each colour and 2,000 pages in the black. These are reasonable capacities for the expected workload of this printer, but if you print A3 images you're going to quickly burn through them.
Running costs are a little on the expensive side, especially when using the lower capacity cartridges which come in around 2.5p per page. You should stick to using the higher capacity cartridges, which work out at a far more forgiving 1.4p per page (ex vat). This is competitive in the A3 office printer world but not the cheapest. If running cost is more important to you than final print quality you should check out the range of Brother A3 printers in their MFC range.
At time of reviewing there were no third party cartridge options for the HP Officejet Pro 7740, as soon as they're available and pass quality testing we will add them!
Who Should Buy This Printer
Anyone looking for a good value A3 office printer. There are very few A3 printers around, other than the few Brother MFC printers they release each year, and this printer gives solid all round performance at a decent running cost.
The HP Officejet Pro 7740 was reviewed in 2017 and has had two newer models, the Pro 7720 and Pro 7730, released. If stock is unavailable for the 7740 then take a look at them instead, they're basically its spiritual successor.