Reviewed on: May 2017
Suitable For
Offices with a heavy workload that need colour, fast performance and high print quality. We were so impressed with these machines, the spiritual successor to the X476dw previous top recommendation, that we replaced the Stinkyink office printers with them.
The 477dw has an expected duty cycle of up around 4,500 pages per month (maximum of 50,000), more than suitable for nearly all offices. Need more? Consider the HP Pagewide Pro 577dw instead, with an increased average duty cycle of up to 6,000 pages.
Features & Connectivity
This section should be pretty simple to write; features = everything...ish. The X477dw is an all encompassing machine that has pretty much all the functionality any office could need, bar a stapler (and fax, but who uses fax).
Scanner and copier
Automatic Document Feeder (50 sheets)
Auto duplex (2-sided printing)
Wireless
Ethernet & USB
Near-field communication (NFC)
4.3-inch touch screen
AirPrint & Google Cloud Print
Direct printing by USB
500 sheet paper tray (optional 2nd tray for another 500 sheets)
50 sheet multipurpose tray
The optional second tray is very helpful for large print runs and very easy to setup, which is pretty reflective of the entire experience with the 477dw Pagewide Pro. A simple printer that does what you need. There's also a non-wireless version of this printer, the X477dn. If you only need ethernet then you can save a few £'s and order that instead.
Print Speed & Quality
Print speed.... well. What makes the PageWide Pro range unique in the printing world is HP's use of a printhead that covers the width of the page. So, instead of conventional printheads zipping back and forth across the page, this fixed printhead spans the whole page quickly, in one swoop. Much how a laser printer works.
What does this give you? Ridiculous print speeds from an inkjet that are on par with laser printers, but the print quality of traditional inkjet office machines. Our printspeed tests came in between 40-42 pages per minute (ppm), and even faster in draft mode. We were pushing close to 56ppm in draft, one of the fastest we've tested and still at good quality. All of this speed had no impact on print quality, with professional colours and crisp text on each page. Indeed, when you receive any Stinkyink paperwork it is printed using this machine, at full speed, in duplex mode. This will give you an idea of the quality!
The only point we'd note for print speed is that the auto-duplexer is slightly slower than other PageWide machines we have used. It's a strange phenomenon and possibly just limited to our model, but there's a slim delay between each duplex page which we didn't experience with the X476dw. Regardless, the printer is fast.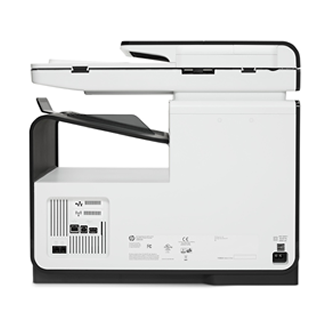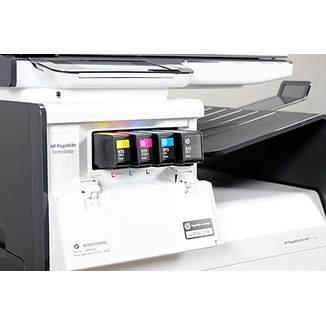 Cartridges & Running Costs
At time of writing there are no compatibles for this printer, they're still in testing stages and until they ace them, we won't sell them. This leaves you with HP originals and, for once, you're in good hands. The cartridges come in two capacities; standard gives you up to 3,500 pages in the black and 3,000 per colour, the higher capacity increasing this significantly to 10,000 pages in the black and 7,000 per colour.
While the standard capacity cartridges aren't the cheapest to run, roughly 2.25p per page, jumping to the higher capacity slashes your running costs down to 1.17p per page. This is an excellent cost for such a strong all-round machine using originals, and will drop even further once compatibles are available (if you're willing to use them).
Who Should Buy This Printer
Any up-to-medium sized office that needs an all-round printer that handles anything you can throw at it. So good that we use it in our offices, which is saying something! Need more pages per month? Check out the HP 577dw instead, the model above this which is designed for 33% more pages per month and heavier usage.