Reviewed on: May 2017
Suitable For
Any user that wants a simple, easy to use printer that can comfortably handle a fair amount of volume going through. Cheap running costs and ease of installation make it ideal for students, small offices or anything similar.
Features & Connectivity
While you're missing scan & copy functionality the iB4150 fits a good selection of features in which make it more than suitable for most users:
Wireless
AirPrint & Google Cloud Print
2x 250 sheet paper trays
Auto 2-sided printing (duplex)
Ethernet & USB connectivity
A built in Access Point means smart devices can connect to the iB4150 without a wifi network, otherwise you're only really missing the ability to print from memory card etc which isn't too big a loss.
Print Speed & Quality
Print speeds from the Canon iB4150 vary by how many pages you're printing, swung by a reasonably long 10 second time for the first page being printed. Print speeds vary between 13-16 pages per minute so, even at the lower end of the speed, you're getting a pacy machine for your money. It's faster than nearly any printer at this price point, even if it far undershoots Canon's claimed speeds (as is usual).
Our office documents came out impressively in the iB4150 tests, with clear images and accurate colour reproduction. This printer is more than suitable for customer facing documents and can easily handle a professional finish. What was even more surprising is the photo quality. Okay, some smaller office printers are giving good photo results, but Canon's Maxify range and higher capacity inks typically sacrificed some photo quality for yield, but the iB4150 gives brilliant results that are more than good enough. While you'll get better images from printers aimed at photos, you won't get anywhere close to this colour reproduction in a laser and is a big thumbs up from us.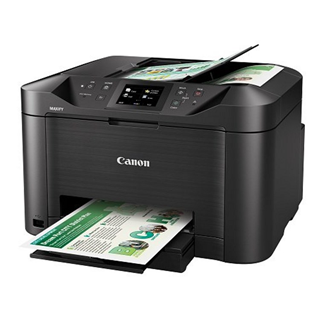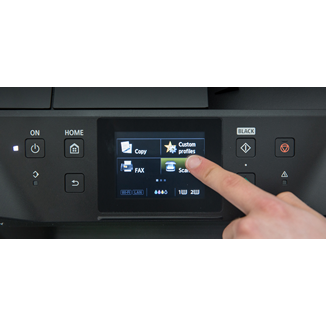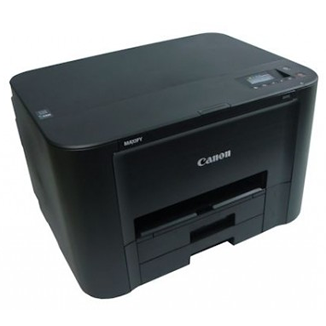 Cartridges & Running Costs
The iB4150 Canon Maxify printer uses four separate colour cartridges in the Canon PGi-2500 cartridge range. For some reason Canon have called the inks XL's even though they only come in one capacity, with a black of up to 2,500 pages and each of the three colours giving between 1,300 and 1,700 pages. These install incredibly easy into the printer with the becoming-popular method of slots in the front of the machine.
Running costs are an area this printer excels in, even using the genuine Canon inks gives you costs per page of under 1p, fantastic in a machine that is this cheap to buy up front. There's a range of money saving compatibles available which further lower this, giving a running cost of 0.49p per page. This is on par with even the lowest budget printers, you'll only find cheaper in much more expensive printers with larger capacity cartridges, so the fact you get it in such a small, cheap printer is great.
Who Should Buy This Printer
We see the Canon iB4150 being perfect for students in shared accommodation, home offices or small-medium sized offices. It's ease of use, cheap running costs and overall quality lend itself to anywhere that prints a fair volume of pages but don't need copy or scanning.