Reviewed on: May 2017
Suitable For
Anyone interested in printing photos at home and doesn't want to plump for a dedicated printer suitable for professionals. The TS8050 is a fantastic all round printer that provides stunning photo print quality. It can also double as a home printer with all the functionality a home printer could need. Do not buy this printer if you have no interest in photos though.
Features & Connectivity
The TS8050 comes with a relatively steep price tag (at time of review), but thankfully you get a decent lineup of functionality for the price:
Wireless
AirPrint & Cloud Print
Copy & Scan
Auto 2-sided printing (duplex)
Print onto CD
Direct printing via SD memory card
Mobile Print with Canon App
4.3" touchscreen
Dual paper trays
100 sheet paper cassette , 20 sheet photo paper rear tray
Borderless printing
That's pretty much everything a home user will need, and more than enough for photo enthusiasts wanting to get the most out of their images.
Print Speed & Quality
The new TS range of printers was superseding the previous award winning Canon MG range which had dominated our best buy recommendations for the past few years, so they had a lot to live up to. Thankfully the TS8050 was more than up to the task and proves to be a brilliant machine that, if we were buying a new one for home, is definitely the one we'd choose.
Speed wise the TS8050 is more than fast enough for home use. 'Normal' documents range between 7-11 pages per minute, depending how graphically heavy the print is. So mono text documents are the speedier end of the spectrum, graphs & images etc will slow it down closer to the 7 pages per minute. But you don't buy a printer at this price, with this spec, for the speed of prints.
The most important thing about the Canon Pixma TS8050 is the print quality and, boy, it does not disappoint. Photo printing from this home printer is glorious, the added grey cartridge really expanding the possible range of colours, leaving you with vivid prints, accurate flesh tones and even strong greyscale prints.
For normal document printing the text comes out a little 'heavy', and other home office printers will give you crisper text. If you need a printer predominantly for office work and photo prints are a side hobby then you may possibly need to look at other machines, especially if you work with smaller fonts. Otherwise, normal documents are more than good enough for day-to-day printing and are supplemented by a disgustingly good photo printer. Enjoy!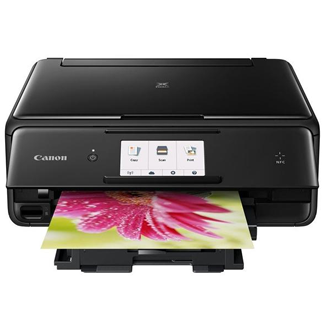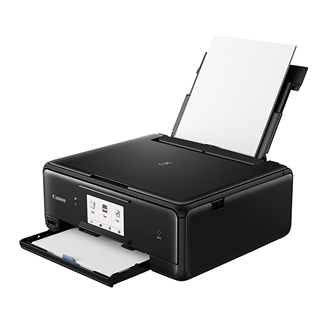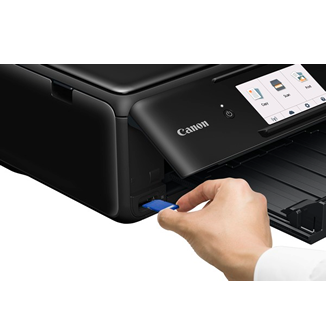 Cartridges & Running Costs
Part of the reason the TS8050's print quality is so high is the number of cartridges it takes. You have a dedicated large black for text printing, then 5 individual colours for photos. These 5 cartridges comprise your standard black, cyan, magenta and yellow; but also a bonus grey which significantly improves the possible colour gamut of your prints, giving more accurate colours and subtler hues. Each of these cartridges comes in standard and high capacity, and you individually replace them as they run out which minimises any waste.
Considering the quality of prints and the price of the printer we would have expected this printer to have a far higher running cost, but it works out fairly reasonably. At roughly 2.7p per page for standard capacity cartridges and 2p per page for higher capacity inks, while it's not the cheapest printer to run it is more than acceptable for a home printer, and pretty darn cheap for a home photo printer.
It gets even better if you're willing to use compatible inks. Our best selling set brings your printing costs down to a ridiculously low 0.6p per page, competitive with even budget printers while still giving you excellent print quality.
One downside of the Canon TS8050, which it shares with all of the other Canon TS machines, is how much ink it "wastes" each time you send a print through, or turn it on and off. Canon's are notorious for thorough cleaning and initialisation processes to ensure they always run smoothly. This does mean you will use more ink in this printer than others if you turn it on, print one page, then turn it off, each day, instead of printing a few sheets at once. If you print this infrequently/little then you're likely more suited to a budget printer anyway, and we personally find the quality, reliability and overall performance of the Canon to merit this increased ink usage.

Please note, if you do buy this printer, the starter inks are very low capacity and you'll likely need a set of inks straight away as spare to use.
Who Should Buy This Printer
You! In all seriousness though, if you're not printing photographs then this printer isn't for you. It gives great prints whilst also being comfortable doing standard home document printing. It would be an expensive home office printer in isolation though, it's true strength is doing everything a printer does with the added bonus of amazing photos.