If your order has a fault
You're protected by our 12-month guarantee. In the rare event we can't fix the fault you can choose between a free replacement or a full refund. Whatever happens, you get your money back.
If you change your mind
Unopened items can be fully refunded up to 14 days from delivery, with reduced refunds for older orders. You'll need to pay postage if your items aren't faulty, this helps us keep costs and website prices down. Returns must arrive back to us within 14 days of your request or the agreement may be affected.
Cancelling an order we haven't shipped yet? Let us know asap on 01746 781020 or email sales@stinkyink.com if it's outside office hours.
Refunds when changing your mind
Up to 14 days from receiving your order: Full refund
15-30 days: Refund minus a 20% restocking fee
30+ days: No Refund. Get in touch and we'll see what we can do
What we can't refund if you change your mind
Open items, even if it's just the outer blister pack
Orders received over 30 days ago
Optional delivery upgrades that were fulfilled (e.g. next day courier)
How to return a product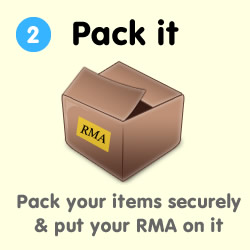 When sending your items back:
Please do not include random items with your returns number. We will be unable to send them back to you.
Please do not send us items without a Customer Returns number. We process thousands of items a day, returns without a Customer Returns number will be recycled.
If you have any problems or need help with anything else get in touch with us at sales@stinkyink.com.