Here at Stinkyink, one of the most common questions our customer service team receive is "How many pages will I get from an ink cartridge?".

The answer isn't as simple as it seems.
First a little terminology...

Page yield is a term you should see on any reputable website selling ink cartridges and it's usually given as a specific, sometimes very exact number e.g. 1003 pages.
It's technically the maximum number of pages a cartridge should print before running out.
So, how is page yield calculated?
The print industry came up with a mutually agreed measure based on an A4 page having an ink coverage of 5%. That's useful, but bear with us...


Is page yield an accurate guide on the number of pages?


Not necessarily, because there are other factors that can make a big difference...

The type of printing you're doing:

Not all prints are created equal! We're all printing different types of documents in different proportions. If you're printing pages full of text or images that will obviously use lots more ink than more sparsely laid out documents, like invoices for example. Background shading can also use up lots of ink. Then of course you have colour and photo printing with the usage of each colour ink varying greatly depending on what you print.
Your printer:

In the same way different cars use varying amount of fuel to cover the same distance, different printers use different amount of ink to print the same number of pages. This varies from model to model. The age of your printer can also make a difference. Naturally, newer models tend to be far more efficient. If you're using a 10-year-old machine it's likely to be using more ink per page than a new model.
If your printer has different printing modes, that can also make a big difference. 'Best quality' will obviously use more ink than the 'draft' setting so check your printer settings!

Printing frequency:

If you leave long periods between printing, the printheads in your machine can dry-up. You may then need to run a cleaning-cycle which uses up ink. Try to avoid leaving your printer completely dormant for weeks or months at a time.
Temperature and humidity:

How you store your ink can affect how many pages you'll get from a cartridge. Keep your cartridge (and printer) in a room with a relatively stable temperature, away from direct sunlight or high humidity. It's also advisable to use your cartridges within a year of purchase and ink will eventually dry out.
How is page yield useful?
The page yield quoted for a cartridge can't be used as a guarantee for how many pages you'll be able to print for the reasons above. But it's still a useful measure. Why? Because it sets a benchmark.
Let's explain…
Let's say you bought two cartridges. Cartridge A has a page yield of 500 pages and cartridge B has yield of 1000 pages.
If your average page was 5% ink, you should get 500 pages from cartridge A and 1000 from cartridge B.
If an average of 10% of your pages ware covered by ink you'd get 250 prints from A and 500 from B. You're using twice as much ink. Simple maths!
Technically, you may get an even higher number of pages than the page yield figure suggests but you'd need for your pages to be less than 5% ink and printer manufacturers make no guarantees their cartridges will print more than the stated page yield.
So, page yield is very useful if you're comparing how many pages different cartridges will print because it creates a level playing field.
But how many pages will an ink cartridge print for me?


OK, we hear you. Let's try to get to a number.
If you have some prints lying around that are typical of the kind of thing you print, gather them together. We're going to get visual.
Select say 10 random pages and lay them out in from of you. Try to get a sense of what a typical page looks like in terms of how much ink you're using.
Now, compare that to the example below. Which best reflects your average page printed?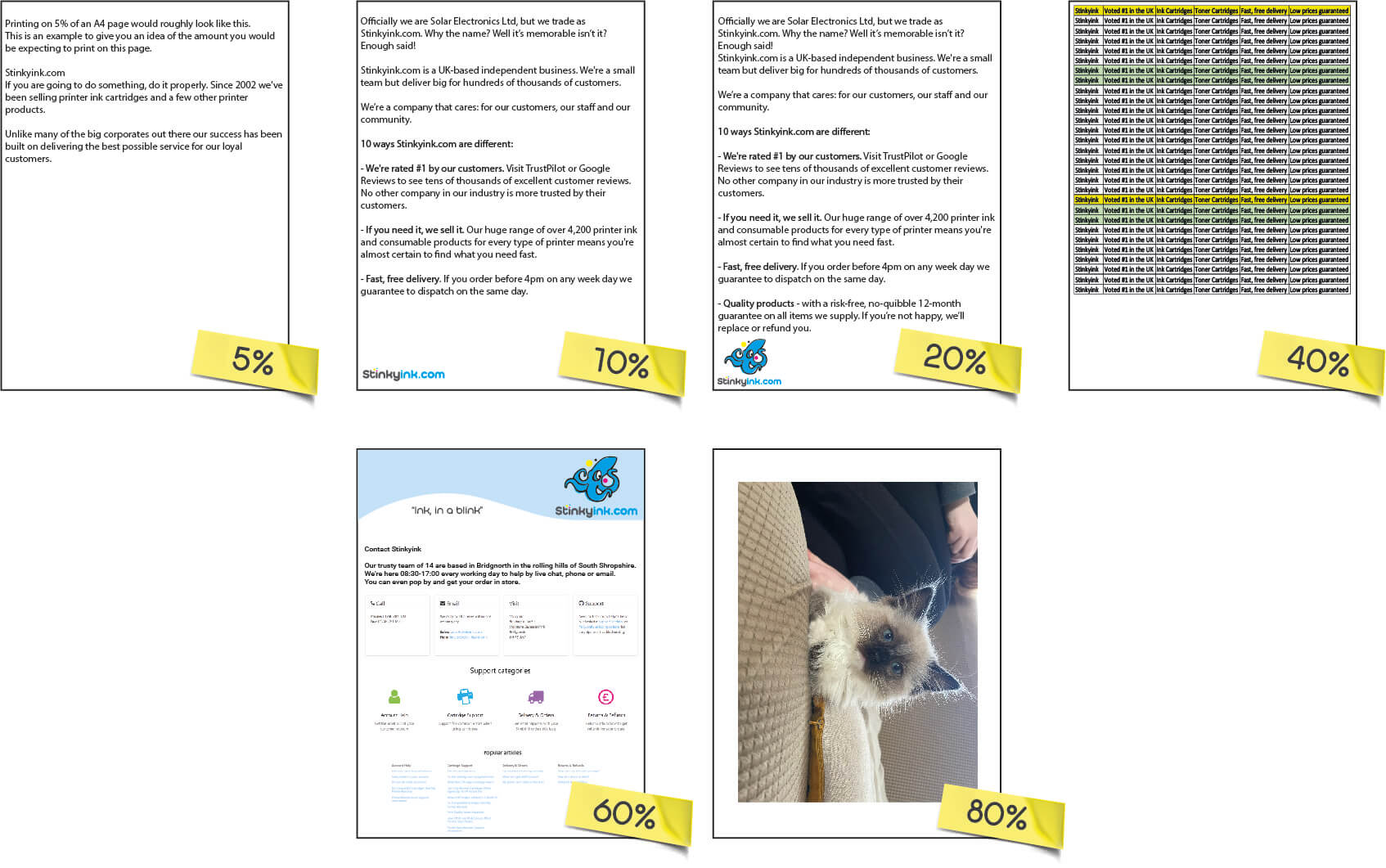 Now you have your average percentage, here's an example how many pages you'd get from a High-Capacity HP 301XL Black Ink Cartridge. Page Yield: 480 pages:
Printing on 5% = 480 pages (the official page yield).
Printing on 10% = 240 pages
Printing on 20% = 120 pages
Printing on 40% = 60 pages
Printing on 80% = 30 pages
Again, if you double the coverage percentage, you get half the number of pages.
Remember though, this isn't an exact science as your estimates probably won't be exact and of course your type of printing could change but now you've got realistic number of pages to work with.
Is the number of millilitres (ml) in an ink cartridge useful?
This is another common question Stinkyink customers ask but we don't recommend using the number of ml as a guide to how many pages it will print. Different cartridges print with different droplet sizes and different printers may take more ink from a cartridge to produce the same print, so this isn't an exact measure. Stick with page yield as your guide.
Conclusion
When buying ink cartridges, there is no easy way to get an exact figure on how many pages you'll be able to print. However, you can get a reasonable estimate by working out the approximate average ink coverage on an A4 page based on your typical printing, then using the page yield as a benchmark to come to an estimated number using the workings detailed above.