With an average customer happiness of 99.9% on Trustpilot, star rating of 4.9 out of 5 on Google and product review score of 4.8 out of 5 stars, our constant work for the best third party cartridges pays off for our customers. But what makes them so good?
Strict Quality Testing At Every Stage Of Production
We only source our third-party cartridges from manufacturers with strict quality testing procedures and requirements.
Whether you've ordered a refilled, remanufactured or compatible cartridge from us, you are safe in the knowledge that it has gone through rigorous testing in:
Chip compatability with your printer
Overall print quality
Colour matching to the genuine manufacturer
Reliability and long-term performance
Until cartridges ace every stage of testing, we don't sell them. It's that simple.
Performance Matching OEMs At Every Step
A cartridge's performance is so much more than just the pages it prints. There's installation, reliability, how it works with other cartridges and much, much more.
It all starts in production. All of our manufacturers conform to ISO9001 and ISO14001 standards. This means they are constantly checked to ensure they have the highest quality management systems and environmental practices in place at every step of production.
These quality controls meld perfectly with the three requirements we obsess over to give you the best printing experience:
Install your third party cartridges the same way you do with OEMs
Mix and match third party cartridges with the OEM cartridges already installed in your printer
Enjoy the same number of prints as the OEM cartridges
The proof is in the pudding, with customers loving our third party cartridges. Here are some of the latest reviews from users enjoying them...
We Guarantee The Performance Of Every Product... And Your Printer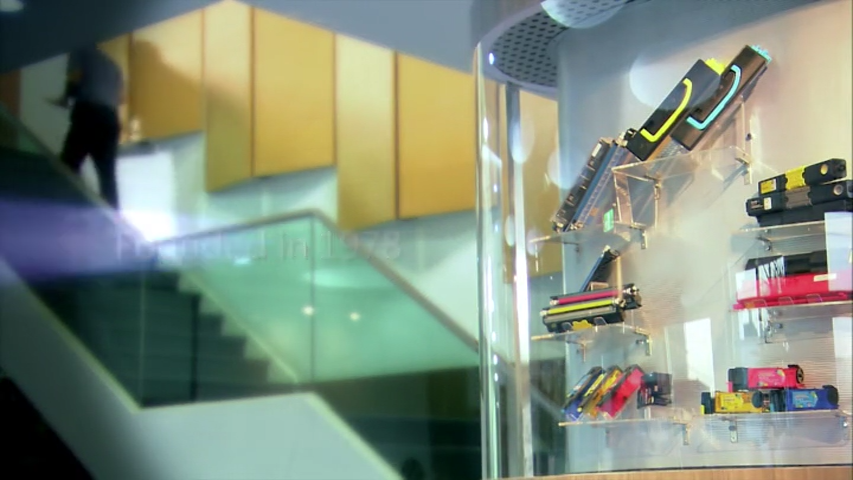 What really sets our compatibles apart from the rest is the guarantee protecting it. Printer cartridges use electronic chips to communicate with your printer and these can go wrong from time to time, both in OEM and cheaper replacements. Be wary of any company that tells you otherwise.
That's why everything we sell has a full 12-month money back guarantee. You'll likely never need it. But if you do, you'll enjoy a free replacement or full refund on your cartridge.
That's not all. Our guarantee even covers your printer to give you even more peace of mind. There's literally no risk, leaving you free to enjoy some unbelievable savings.
An Expert Independent Study Confirms They're Awesome
We commissioned an independent printer expert to put our third party cartridges against original manufacturer versions in a head-to-head. We're so confident in everything we do that we pushed for photo prints to be included in the review, something many competitors try to avoid as they believe OEMs to be better.
The Tester
Simon Williams, a Print Technology Journalist. You'll have seen his work if you've read any online printer reviews and tests. He's a busy man and the best unbiased source we could wish for.
The Test
Cartridges were tested by printing photographs and 'normal' documents on both unbranded photo paper and OEM photo paper. Focus group members were presented with unmarked combinations and asked to give scores out of 10 for print quality.
Interested in exactly what the focus group people saw? You can download the exact welcome document they received here.
The Results
An incredibly strong showing by the compatibles!
Highlighted in the graphs below, average scores across the board were level with the OEM performance and in some instances higher! That's right, sometimes the third party prints were rated above the original prints by the observers.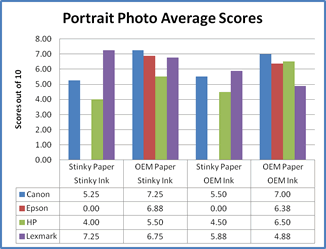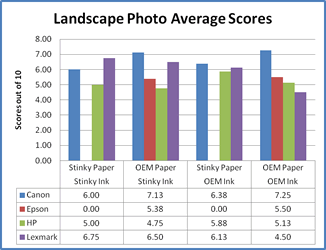 An interesting side note to the study is also the spread of votes by manufacturer, with Canon taking top-spot for photo print quality across the board. We've long advocated Canon's excellent range of Canon Pixma printers and this fully supports it! Go grab yourself a Canon printer and fill it with excellent value Canon inks at the earliest opportunity.

Common Misconceptions About Third Party cartridges
The printing world is full of "drill and fill" merchants and low quality cartridges that can cause issues in your printer. It's why shopping with reputable suppliers with money back guarantees (like Stinkyink!) is important. That still leads to a lot of false information floating around, so we've answered your queries for you:
False: Remanufacturers / Refillers just refill the cartridge, nothing else
Professional remanufacturers replace every worn or damaged component in the cartridges. This gets even more complex/impressive with third party toners and drums, with Imaging Drums and other complicated mechanical parts all being replaced with quality components.

Will using Third Party cartridges void my Printer Warranty?
Manufacturers can only void the "optional warranty" on top of your initial 1 year guarantee. They will still try and blame the cartridges though, even if the issue is not even remotely close to a cartridge (one even tried to blame a paper jam on an ink cartridge...).
We remove any confusion for you by providing the guarantee/warranty ourself. Our 1 year money back guarantee covers both the products you order from us AND the printer you are using them in. Simple :)
Third Party cartridges are inferior to Manufacturer Originals
They certainly shouldn't be, and we work tirelessly to ensure this. The independent study results above show the amazing quality of our cartridges!
The only difference you'll ever see is the archival time of photos using some third party inks, which may fade slightly sooner than Originals. Displaying photos correctly (in a frame etc) really helps limit this and, otherwise, your cartridges will be amazing.