It's end of year competition time and we're seeing 2018 out with a bang, with not one but THREE incredible prizes! A 50" 4k Samsung TV, a brand new 2018 iPad and a quite fantabulous Nikon D3500 DSLR camera. Three lucky winners will enjoy their very own Stinkyink Santa and you could be one of them...
UPDATE: This competition is now closed. Congratulations to our three winners: Elizabeth from Perth & Kinross, Stephen from Liverpool, and Bonesjones from Twitter. The prizes have been received and are enjoying much love and entertainment. Keep your eye out for our upcoming competitions where you can win even more goodies!
How To Enter
You can earn up to 20 entries to this fantastic prize draw, via four different methods! They're easy to do and you can quickly rack up the entries to maximise your chance at winning. The competition runs from December 11th to January 8th so get busy.
- Place An Order At Stinkyink
Every order between December 11th to January 8th enjoys automatic entry into the prize draw, for up to 5 maximum entries. There are no boxes to tick or codes to use, every order will be entered.

- Review Your Stinkyink Experience
Product reviews and Service reviews over the competition period gain a free entry each, for up to 5 more entries between them. Reviews must be longer 10 words.
To leave a product review, login to your Stinkyink account and view any old order or product in your item history to see an option to leave a review. Try to make them as helpful as possible to other customers!
To review Stinkyink on Trustpilot you can either go through your personal review link in your customer account or head straight to the Stinkyink Trustpilot page to leave a review (you'll need your order number).
- Refer Friends With Your Referral Code
Every Stinkyink'er has their own personal Referral Code in their customer account. Log in, grab that code and share it with the world. Every new customer using that code gets you a free competition entry (and £2 off your next order as referrals always do). You can earn up to 5 more entries through referrals. Need help? See our referral page here.
- Say Hi On Facebook & Twitter
Why not say something nice to us, or spread the word of this awesome competition? Mention us, and our competition, on Facebook or Twitter for a free entry. Mention up to 5 times for a total of 5 more free entries.
The winner will be chosen randomly from all of the entries after May 15th, with the spiffing prize on the way straight after.

Prizes! Prizes everywhere! Every competition needs a prize to get the excitement going and oh boy, all three of these prizes. Three lucky winners will each receive one of these prizes and, no matter which they win, will be in tech heaven.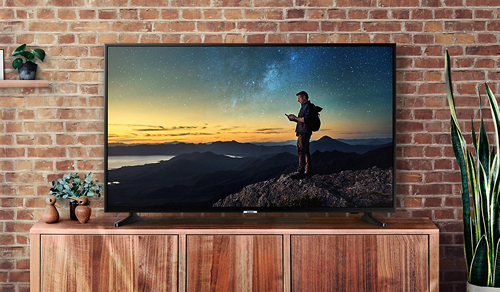 The Samsung UE50NU7020 HDR 4K Ultra HD Smart TV
This 50" Ultra HD HDR Smart TV is a monster of a TV, fit for any home.
Utilising HDR10+ you'll enjoy ridiculously lifelike images and colour reproduction, and the amazing UHD dimming technology gives breathtaking shadow details, night scenes and brightness you can only dream of!
It's a fully smart TV, with Smart Apps and Steam Link built in. Netflix, Youtube and Samsung's Universal Guide means you'll never run short of things to watch. It's so good, if you win you might want to let your friends & family know you'll be disappearing for a while.

The New Apple 9.7" iPad 2018 - Space Grey
iPads. What is there left to say about them? You quickly run out of superlatives... beautiful, sleak, stunning, fast, light, industry-leading...
They're all merited. How else do you do justice to an A10 Fusion chip, utilising over 3.3 billion transistors, giving enough speed & power to do 4K video editing in a tablet!
Or to explain how seamlessly you can multitask apps, experience augmented reality, or just FaceTime Mum & Dad. It's the best iPad on the market, and it could be yours.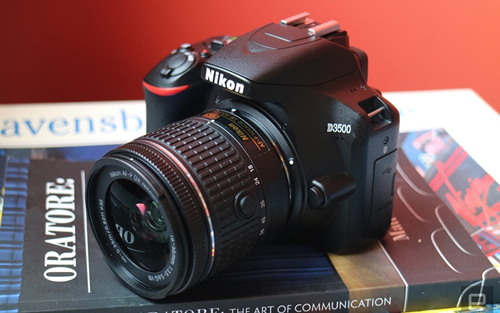 The Nikon D3500 DSLR Camera + Lens
"Creativity, without the complexity", the Nikon D3500 is the perfect camera for amateurs and pros, putting stunning photography just a click away.
It's easy to use modes and stunning ergonomic design help you capture the perfect moment, and the Nikon EXPEED image processing system guarantees your pictures have never looked so good. This prize includes an AF -P DX NIKKOR 18-55mm f/3.5-5.6G lens too!
Built-in image stabilisation and image sensors up to 15x larger than smartphone cameras gives you unbeatable detail and contrast, and the pictures are beautifully simple to share with Snapbridge and Bluetooth connectivity.
Three amazing prizes. Three lucky winners. Get your entries in now and good luck!
Terms & Conditions
It's the standard T&Cs for our competition. basically you need to be an adult, we'll pick three winners and send out the prizes, and (sadly) none of us at Stinkyink can win! Nice and simple, but for the full T&Cs just read on:
To enter you must be: (a) a UK resident and (b) 18 years old or over at the time of entry
No entrant details will be shared with anyone, ever. We'll only use the email address/phone number to let the winner know.
Competition is not open to employees, or anyone affiliated with employees, of Stinkyink.com (sorry Tech Team, no shiny TV for you)
Entry to the competition is earned by four methods, each providing up to five entries giving a total of twenty entries:

Placing an order at Stinkyink.com - maximum five entries per customer, no code or order value requirement
Leaving a product review on Stinkyink,or submitting a review of Stinkyink on Trustpilot - maximum five entries per customer, review must be longer than 10 words
Your referral code being used by a new customer on a Stinkyink order ,- maximum five entries per customer
A social post mentioning Stinkyink and their competition on Facebook or Twitter - maximum five entries per customer

The winners will be selected at random from all qualifying entries between the dates December 11th, 2018 to January 8th, 2019.
The prizes will be sent within one week of the winners being chosen
The winners will be randomly selected, each winning one prize on offer. First winner drawn receives the TV, second winner drawn receives the iPad, third winner drawn receives the camera.
There are three prizes, comprising 1x Samsung UE50NU7020 4K Television, 1x Apple 9.7" 32gb Space Grey 2018 Tablet, 1x Nikon D3500 DSLR Camera
Closing date for entries is January 8th, 2019, Stinkyink.com reserves the right to amend the competition end date at any time.
If you win we will notify you by phone & email
Winners randomly selected from all entries. Random selection is final, and no correspondence will be entered into
The prizes will not be transferable
No part of a prize is exchangeable for cash or other goods/services
Incorrect or inappropriate entries will be disqualified
This competition is being run by Stinkyink.com, Unit 9 Alveley Industrial Estate, Bridgnorth, WV15 6HG
Stinkyink.com reserves the right to amend these rules at any time