Reviewed on: September 2019
Suitable For
The HP M118dw printer is the latest in a long line of mono HP laser printers aimed at small offices (and, possibly, busy homes that don't need colour). With easy setup and use, a single consumable cartridge and all the connectivity options, it's a solid printer that prints well, and easily.
Features & Connectivity
You get a solid selection of features in the M118dw. Though missing a scanner/copier, you do get an autoduplexer (for 2-sided printing) and a whole host of connectivity options that make this Laserjet printer ideally for the office:
Up to 250 sheet paper tray, with 10-sheet multipurpose tray
Automatic 2 sided printing (Duplex)
Wireless
Apple Airprint and Google Cloud Print
WiFi direct
USB port
Ethernet port
HP Smart App
Instant-On technology
The Instant-On feature, meaning your first page printing from standby is far quicker than normal, is common on the budget mono laser printers but is still a great feature to have. Flying under the radar in many reviews is also the HP Smart app. For tech-savvy users who are already using mobile devices, this app (and WiFi direct) make printing a breeze and is great for documents on the go.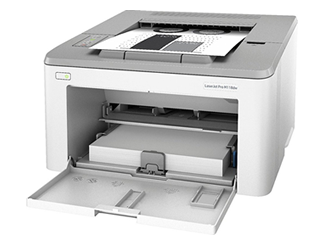 Printer Speed & Quality
HP actually don't embellish the print speed of the M118dw as much as normal. They quote a speed up to 30 pages per minute and in our "normal document" test prints we had it topping out around 25 pages per minute. That's still more than fast enough for a printer at this price point, though there are slightly faster models at this price range.
A printer of this nature, "time to first page" is as important as overall print speed, as it measures how easily you can do the quick 1-or-2 page printouts that are common in small offices. These were coming out between 6-7 seconds with the m118dw, from standby, which is nice and pacey. HP definitely lead the way with their instant-on laser technology so far.
Cartridges & Running Costs
HP keep the M118dw nice and simple, with just one consumable for the printer that comes in two different capacities. You have the standard capacity 94A toner, with up to 1,200 pages, and the 94X high capacity toner, providing more than double at up to 2,800 pages. They're the same physical size and easily slot into the printer with minimal effort. You'll be alerted when toners start running low so you can get a replacement ready. There are also money saving option toners available for the printer which really cut your running costs down, with compatibles available for both the standard and high capacity options.
Running costs are slightly on the high side with the M118dw, with around 3p per page using genuine HP toners and just over 2p per page with compatible options. Whilst not breaking the bank, the difference in costs will quickly mount up if you print more than a few hundred pages per month. Some of the mono Samsung's previously tested, and HP's previous best selling mono printers, have slightly lower running costs, so it's a bit of an odd decision from HP. Hopefully over time these consumables come down in price and are slightly more competitive, though the difference isn't THAT large. The good performance of the machine almost balances it out.
Who Should Buy This Printer
Any small office that needs a little workhorse and they don't mind paying a little more for their toners (or have found a great price on this machine). The M118dw HP Laserjet knows what it wants to do, and it does it well. As soon as the consumables come down in price it will be a definite recommend!