Reviewed on: January 2019
Suitable For
The HP Officejet Pro 7720 4-in-One printer is suitable for a home office or small office that really needs to be able to print up to A3 size. Make sure you don't need to be able to scan or duplex in A3 though, as for some reason HP decided to make the scanner only support A4.

Features & Connectivity
While the HP 7720 Officejet machine is a fantastic, affordable way of bringing A3 printing to your office, HP made some strange decisions that drop its rating. The crucial downfalls are twofold. Firstly, you can't duplex in A3. Manually printing on both sides of A3 isn't too difficult, but if you intend to print a lot of 2 sided A3 documents it might become pretty annoying.
Secondly, you can't scan or copy up to A3, which is a little ridiculous. There is ample room for the scanner bed to have been A3 sized yet HP decided to keep it at A4. Odd, especially when compared to the Brother A3 printers that are smaller yet manage to fit it in.
USB
Wireless & Airprint

35 sheet auto document feeder

Auto duplex printing

Copy, Scan & Fax

Mono print speed approx. 22ppm

Colour print speed approx. 18ppm

250 sheet paper tray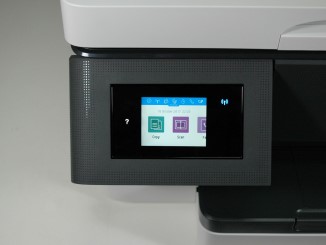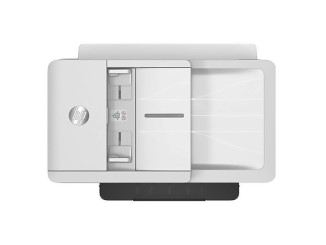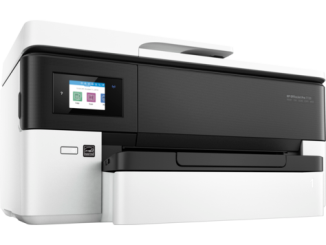 Print Speed & Quality
The 7720 raced through the print speed test, churning out 22.7ppm for black text printing. Throw colour graphics into the mix and you still get prints at an impressive 8.6ppm. Not the fastest, but at this price point that's more than good enough for offices this printer would be suitable for.
This printer is great at turning out high quality prints. Its black text printing could give lasers a run for their money in terms of quality. This dips a little when you mix in images but they're still perfectly respectable. It's not so great however at producing photos, with colours appearing a little less vibrant than you may expect, but we doubt you'd be putting many photo-level images through this office machine anyway.
Cartridges & Running Costs
The HP Officejet 7720 uses four separate colour cartridges, all part of the HP 953 range of inks. The starter cartridges included in the box should last about 700 pages for colour and 1000 pages for black printing. Replacement HP 953 cartridges are available at both standard and high capacity, the latter giving up to 1600 pages of colour and 2000 pages of black printing. As always we recommend only using high capacity cartridges in this machine to keep your running costs as low as possible.
At time fo writing a set of standard capacity original cartridges will set you back in the region of £85 and a high capacity set about £120. While the outlay for this is pretty high the costs per page are reasonable at 2.7p and 1.8p respectively. As you'd expect compatible cartridges are significantly cheaper, with a high capacity set around £70 there's some serious money to be saved if you're happy with compatibles. These make the cost per page just 1.1p.
Who Should Buy This Printer
While it's a little on the large side and overly noisy, you don't see many A3 printers at this price point, so if you need to print to this size then the HP Officejet Pro 7720 is well worth consideration.