Reviewed on: February 2019
Suitable For
If you only print occasionally, but would still like to print the odd photo or two, the HP Envy 5030 is a great little printer if you can find it for under £50. If you print more than 50 sheets a month avoid it though, your costs will quickly mount up.
Features & Connectivity
The HP Envy 5030 has a strong selection of features that cover everything the average user should need.
Wireless & Airprint

Auto duplex printing

Copy & Scan

Borderless printing

Tray capacity up to 100 sheets

Mono print speed up to 10ppm

Colour print speed up to 7ppm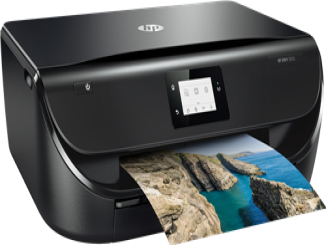 Print Speed & Quality
Printing photos is where the HP Envy 5030 stands out with crisp great quality prints and solid colour reproduction, especially when considering the machine uses only two cartridges. 'Normal' home printing, such as homework and the like, is also more than good enough.
It's not the speediest machine though, with colour prints taking more than two minutes for a 10x8" photo and over four minutes for a page containing both text and images. This is slow even by home photo printing standards, so be prepared to wait!
Cartridges & Running Costs
For such a small printer the HP Envy 5030 is quite thirsty. Its combined colour cartridge also means that when one colour runs out the whole cartridge needs to be replaced. The set up cartridges included in the box are a bit on the stingy side with the black printing around 120 pages and the colour around 100 pages.... so you'll need to look at buying further cartridges pretty soon depending on your printing frequency.
The inks come in two capacities and we would always recommend looking at the XL versions to save money in the long run. Standard capacity HP 304 original inks will cost around 8.7p per page and high capacity 304XL's will give you a small saving at around 7.5p per page. The most cost effective method of printing is using money saving refilled cartridges which, at time of review, will drop your running costs down to around 5p per page. This is not a cheap printer to run by any means, but it's aimed at the "don't print that much" market and is on par with other printers in that area, though it's more expensive to buy at first.
Who Should Buy This Printer
This is a great little printer for someone who wants to print mainly photos and has little need to print black text documents and graphics, ever, but it needs to drop in price when you buy it to get a better recommendation from us for other users.