Reviewed on: May 2017
Suitable For
Home users that need a budget home printer that is AirPrint compatible. With reasonable text & document print quality, very good photo print quality and easy wireless printing, the 4527 is a decent printer that doesn't quite hit the heights of the budget Epson printers. Due to running costs this printer is not suitable for office or home office users, and is intended for low-medium home use only.
Features & Connectivity
Features in the HP Envy 4527 are kept simple, as you'd expect in a budget printer aimed at the home:
Wireless
AirPrint compatible
Scan & Copy
Auto 2-sided printing (duplex)
2.2 inch touchscreen
100 sheet paper tray (output tray only handles 25 sheets)
USB connection
The most important thing to note is there is no Ethernet port, so if you want this printer on your Network it is wireless or nothing. You can connect it to your PC via USB but this won't allow any of the network functionality, if you need it.
Print Speed & Quality
This printer is a true middle-ground machine for print speeds, and it varies heavily in what you're printing. Photo prints are the speedier side of budget printers, with 6x4 and A4 photos coming in at nearly half the time you'd be waiting for one from similar budget Epson printers. Standard home documents, such as homework etc, come in around 8 pages per minute when black-only, slowing down the more colour you add until you reach around 2 pages per minute for full graphic pages. It's a pretty reasonable speed for the quality you get, and you won't find much faster at this price point.
Print quality is one of the main reasons we recommend the HP Envy 4527 over budget printers from, for example, Brother. Text printing is sharp and accurate, even as fonts get smaller, but where it really stands out is photo print quality. Traditionally Epson are the main winners for budget photo printing, but if you're not an Epson fan you can still use this Hp Envy 4527 and be pleased with the outputs. Colours are vibrant and pretty accurate to the actual image, even skin tones come out surprisingly well.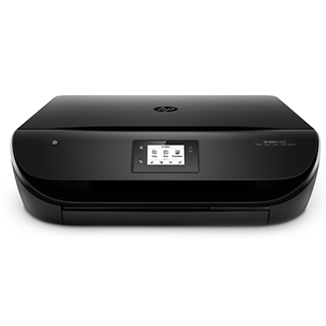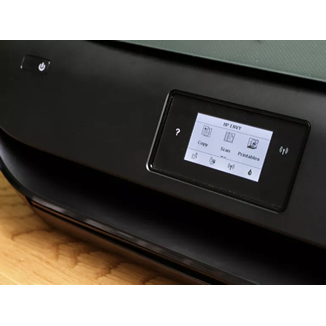 Cartridges & Running Costs
The HP Envy 4527 takes two cartridges in the HP 302 range, a black and tri-colour, which come in two different capacities. Standard capacity gives you between 165-190 pages in each cartridge, with the higher capacity XLs giving increased yields of up to 480 pages in the black and 330 in the colour. Running costs are extremely high when using the standard capacity inks, so we'd advise sticking to the XL inks and saving money in the long run.
Why are the cartridges so expensive compared to similar printers? It is because the printhead is built into the cartridge, not the printer. While this makes each ink cost more up front, it has the advantage that if you're a very infrequent user, or go long periods without printing, if your ink dries up it only breaks the cartridge not the printer. This makes the HP 4527 ideal for infrequent users.
These increased costs means you're looking at around 6p per page with the XL inks, more expensive than other budget printers, but they have the downside that if ink dries up you have to replace the printer, so it fully depends on how often you print and how long the printer will sit unused.
There are refilled HP inks available that help you save money, at time of writing they'll drop your running costs to a more reasonable 4p per page, and their prices will only come down as stock becomes more plentiful so keep your eyes peeled!
Who Should Buy This Printer
Any low to medium use home. Reasonably high costs per page rule out printing more than 50 sheets a month consistently, but if your usage is around that then this printer is ideal for you. Photo print quality is excellent so occasional photos of the grand kids is perfectly suited to this machine.