Reviewed on: September 2019
Suitable For
Home users after a compat, simple to use printer that won't break the bank to purchase and is happy printing only a few pages a month. Better printers exist, for more money, but if you want simple then the HP Deskjet 2630 is for you.
Features & Connectivity
The HP Deskjet 2630 printer gives you basic functionality for the low price, removing any bells and whistles from other machines to give you a machine that just... prints. The wireless and addition of AirPrint is pretty nice though:
Scan & Copy
Wireless
Apple AirPrint
USB port
HP Phone App
60 sheet paper tray
Simple LCD display
If you're looking at the similar printer models 2632 and 2633 wondering if they offer any different features... nope! That number is merely the colour finish on the printer case. The 2630 has the blue finish, which we quite like. The HP Deskjet 2632 has a turquoise finish and the 2633 a red finish.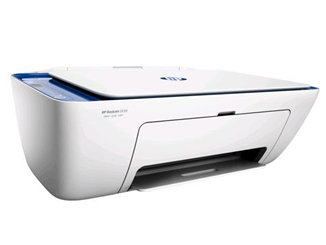 Printer Speed & Quality
This printer is not fast. Holy moly it is not fast. When running print quality comparisons we filmed the photos coming out... they have to be sped up to use as you're easily looking at 80+ seconds for an A4 photo. But you don't buy a budget printer for speed, so this isn't surprising. If anything it's a strength, send a photo to print and go make a brew.
The quality is a big plus for the 2630. While it obviously won't compete for some of the slightly more expensive budget printers we review (mainly the four cartridge Epson printers), it still does a very good job for this price point. The photo prints we tested, using both originals and our compatible cartridges, were more than good enough to display and the colour accuracy was better than we were expecting for such a cheap printer.
Cartridges & Running Costs
The Deskjet 2630 takes 2 cartridges, both in the HP 304 range of printer inks. There's one black and one tri-colour cartridge, with both needing to be installed for the printer to work. As is common for printers that only take 2 inks, it is not cheap to run and you risk wasting coloured ink with all the colours being contained in one cartridge. If the cyan runs out early, you have to replace the cartridge, wasting whatever magenta and yellow is left. The cartridges are easy to install though, if not a little low to access on the printer with its sloped design. If your printer is low to the ground or you have a bad back, Epson's way of accessing cartridges is far easier to use.
Make no mistake about it, the HP Deskjet 2630 is not cheap to run. This isn't a sleight on this particular model, there isn't a budget printer on the market which is cheap to run at this price point (that would be the dream). The very nature of these budget printers is "designed to not fail". The printheads are built into your cartridges so that, if they dry out from lack of use, you can just replace the cartridge and you're good to go.
This printhead being built in makes the cartridges more expensive, at time of writing over £30 for the compatible HP 304 ink cartridges, and over £40 for the genuine HP 304XL ink cartridges. They have a fairly small yield of up to 300 pages per cartridge in the XL (high capacity) inks, and a measly 120 pages in black and 100 pages of colour for the standard yields. Unless you are a very, very low use printer you should avoid the low yield inks as they offer the highest running costs.
The HP Deskjet 2630 is also part of the HP Instant Ink service. If this service is new to you, Instant Ink is HP's subscription service where you pay a consistent subscription cost per month in return for a set number of pages you can print. We've already discussed the merits/drawbacks to this service, and we would still advise not using it, but this printer does support it if that's what you're after!
Who Should Buy This Printer
If you're a home user that prints very infrequently (say, 15 pages a month) this printer is ideal. It does a job, it does nothing else. If the inks dry up you can just replace the cartridges and you're good to go. Any more than that and you're probably better off looking at printers which are cheaper to run, but otherwise the HP Deskjet 2630 is a decent printer for the money.