Reviewed on: March 2015
Suitable For
Any light-to-medium user who prints a mix of documents occasionally. The HP 2540 really shines as a home printer or for a student. This printer is not suitable for anyone printing more than a few hundred pages a month as your costs will quickly rise.
Features & Connectivity
Though a basic printer the HP 2540 still gives you the important features you want from a basic printer:
- Wireless (no ethernet connection)
- AirPrint & Google Cloud Print
- Scanner
- Onboard control panel and screen

It's rare for a budget printer to support Apple AirPrint but HP have obviously aimed the 2540 at wireless users, making it very easy to setup and use. This does come with the disadvantage of no ethernet connection, if you want to network this printer it has to be wireless, otherwise you have a rear USB port to directly connect to your computer.
The scanner is ideal for single-page scans if you need it and the simple, but useful, control panel to the side of it gives helpful indicators for wireless signal and an onscreen counter. Otherwise there's not much else to mention about this budget printer, the fact its paper tray can only hold 60 sheets is evidence of the target market - those who use their printer infrequently and want simplicity itself.
Print Speed & Quality
Budget printers are never the quickest but the HP 2540 puts up a decent fight - clocking in at roughly 5 pages per minute (ppm) for standard and colour document printing. We've tested slower (we're looking at you, budget Epson) so the HP 2540 gets a thumbs up for this speed, you won't get much faster without spending more up front for your machine.
Print quality does not disappoint either, with good results for all of the printing tests. Text was dark and accurate, not as truly black as you get in more expensive machines but more than good enough for homework and other standard family printing. Photo's were also surprisingly good, colours came out bright and, though the resolution isn't as clear as other printers with slightly "grainy" finishes, they were more than good enough for family snaps to stick up on the fridge.
There's no borderless printing option so if you are looking to print your own photos we'd advise looking at the Epson we recently reviewed, but if you can find the HP cheaper there isn't too much difference, you'll just need to get the scissors out occasionally.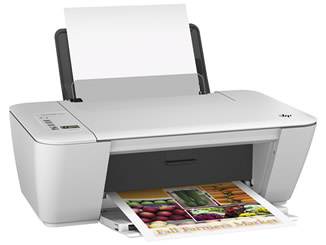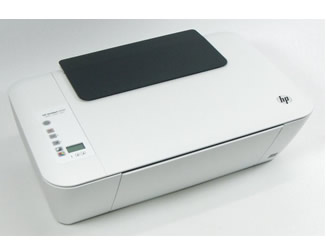 Cartridges & Running Costs
The HP Deskjet 2540 takes 2 separate cartridges, each with a standard or high capacity version. We typically advise avoiding printers that only take 2 cartridges as you waste colour ink each time you replace the cartridge, but budget HP's all use this 2-ink system. Installation is at least easy, using the front of the printer above the paper tray it only takes a few seconds to take an empty out and install a new cartridge.
Running costs are quite high, clocking in around 3.6 pence per page for mono prints and just under 5 pence per page for colour documents. This is more expensive than the other budget printers, if you'll be printing a lot with this machine your costs will quickly stack up, and annoyingly the high capacity cartridges aren't actually THAT high capacity, with the XL black only quted to do up to 480 pages. If you want a cheaper printing we'd recommend the Brother DCP-J132w we reviewed recently, with similar functionality and print quality but around half the running costs.
If you're intent on having a HP though (it happens) the 2540 is your best bet, just make sure to only buy the high capacity inks for this printer, ideally with the multipacks, to keep your running costs as low as possible.
Who Should Buy This Printer?
The HP Deskjet 2540 is aimed solely at those who print infrequently, in small amounts, that need to print anything from standard home documents to colour photos it's particuarly ideal for small families or students. There are better budget printers out there, with this Brother for cheaper running costs or this Epson for photo prints, but overall it's a strong printer that gets the best of both worlds.