Reviewed on: January 2016
Suitable For
The Epson XP-235 is 100% aimed at the cheap printer market and it excels for this audience. Whether you're a student needing to print coursework, a home user that needs a new family machine or just someone wanting to print photos on a tight budget, the XP-235 is great.
Features & Connectivity
Part of the 'Small-in-one' range of efficient home printers, the Epson XP-235 is a tiny 39 x 30 x 14.5cm, yet still manages to give you:
Wireless or USB connection
Scanner & Copier
Epson iPrint
You're missing Apple AirPrint and the option for automatic 2-sided printing (duplex), but everything else is there for an easy, plug-and-go home printer, giving more than enough value for the crazily low purchase price. Plus don't forget how small it is, this printer really is perfect for a small space. It's barely larger than a sheet of A4 paper and sits quietly until you need to print, at which point you just raise the paper support and tray, load paper and start printing.
The menu is a simple combination of five LED indicators and six buttons clearly labelled with common symbols (WiFi, cancel etc). They're all fairly simple to use and, even though there's no LCD display, it's easy enough even for technophobes.
(If Apple AirPrint is important to you, check out the Epson XP-322. It's an equally good machine with the extras you need).
Print Speed & Quality
As you'd expect with a budget machine, the print speed isn't fast. Epson don't do themselves any favours by essentially quoting the quite ridiculous print speed of up to 26 pages per minute. In our tests you'll see closer to 7 pages per minute which, though lower than their initial claims, is still more than fast enough for a budget machine.
Print quality is up to Epson's normal high quality. Whether printing work, images or photographs, for a budget printer the results are fantastic. The images are obviously not as accurate as a dedicated photo printer would be but they're more than good enough to frame, and you'll be hard pressed to find better quality anywhere near this price price. A definite thumbs up.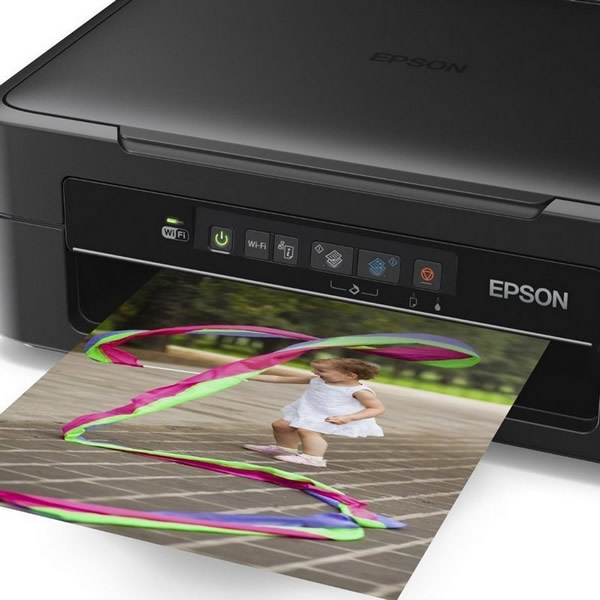 Cartridges & Running Costs
If you're looking for a budget printer we assume you're happy to use budget cartridges? The XP-235 takes a new range of Epson cartridges, the Strawberry range, and compatibles are available and raring to go. With costs working out around 1p per page for colour prints this machine is competitive with any budget printer, and as it's a new range it'll be around for years to come.
If you'd rather not use compatibles then the genuine Epson inks aren't going to break the bank. At close to 2p per page they're competitive with other home printers on the market, but the compatibles are where the real money saving is.
The only point we'd note is that Epson use a technology called piezoelectric printing which has tiny printhead nozzles that are more prone to blockages. If you print very rarely (we're thinking 2-3 pages a month) you'd be better served getting a Canon printer like the Canon MG3650 that has the printhead built into each cartridge. It's slightly more expensive to run but that doesn't affect you too much when printing so little, and is far safer for you in the long run.
You can see up to date prices for the XP-235 inks at the bottom of this review, or a full list of XP-235 cartridges on our website here.
Who Should Buy This Printer?
Anyone looking for a cheap-as-chips printer that is cheap to run but doesn't skimp on print quality. It's also ideal for technophobes, with a simple plug-and-print setup and minimal button pressing needed, it just does what you need and expect.
If you very rarely print opt for the simple Canon MG3650, but otherwise this Epson is the budget printer for you.