Reviewed on: March 2015
Suitable For
The XP-225 Epson printer is a printer aimed solely at the Home budget market for people who print little documents, frequently. The photo quality makes it suitable for any home users needing images, its functionality makes it suitable for small home offices, but do not buy this printer if you go through a lot of pages or your costs will quickly mount up and render the cheap buying price null.
Features & Connectivity
As you'd expect with an Epson "Small-in-one" budget printer, the features are limited but beneficial:
- Scanner & copier
- Wireless
- Epson iPrint & mobile printing

There's no fancy 2-sided printing or Apple AirPrint functionality here, just the basics a home user needs. There are reports that the wireless can be a pain to set up but we had no such trouble, quickly connecting it to our local network and being ready to print shortly after. In fact the main delay you'll see is the first time you install your cartridges, with the Epson needing to run an initialisation process which can take up to 7 minutes. Otherwise you're up and running in no time ready to get the most out of your budget purchase.
If you're unsure what Epson iPrint is, it allows you to print to your machine from mobile devices or by emailing a document to a unique email address which the machine then prints. Personally I'm unsure when I'd ever use this, but others have found it a helpful feature and it means you can have documents ready and waiting for you when you get home.
One thing to note... this printer really is small. if you have limited desk space or like your tech non-intrusive then we doubt you'll find anything more suitable.
Print Speed & Quality
Hopefully you have reasonable expectations for a budget printer, the Epson small-in-ones are not known for their speed and the XP-225 is no different. Day-to-day documents come out around 5 pages per minute (ppm) and if you try any large photo prints you will be waiting a while. 6 minutes for an A4 photo print isn't an exaggeration, wait for your image and you'll find "watching paint dry" might need a new noun.
This does not detract from the quality though and that's where a home budget printer should be judged. The Epson XP-225 can handle standard documents really well, with clear, legible blacks. Photo prints are also far better than you'd expect from such a cheap machine, even better if you print onto dedicated Epson photo paper where you'll get results good enough to frame and display. Though, as mentioned, it will cost you more per print than other machines, the quality is good enough you won't feel hard done by.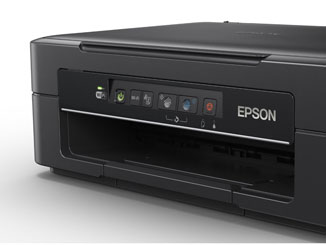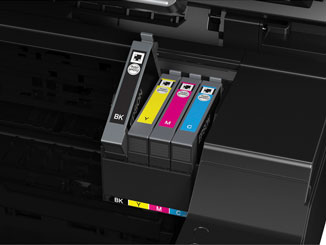 Cartridges & Running Costs
One advantage this Epson has over other budget machines is using 4 individual ink cartridges. Whilst competitor budget options use tri-colour cartridges that contain all 3 colours the Epson has individual tanks, so when one colour runs out you just replace that cartridge.
You have two cartridge capacities for each colour, standard or high capacity. Even sticking to the cheaper-to-run high capacity cartridges will give you costs per page in excess of 2p which, though not bank-breaking, is more expensive than if you'd spent a little bit more up front for your printer, such is the downside to buying a budget machine. If you find yourself printing 1-200 pages a month this printer would be fine and not too expensive, any more and you'd be better off looking to get something a bit more substantial with lower running costs.
Annoyingly, the XP-225 has a 'feature' where, to ensure printheads don't get blocked, it will periodically clean itself if it has not printed for a while. This obviously uses ink from your cartridges so if you find you go long spells without printing you might find you waste a lot of ink.
That's not to say this printer has no hope for costs - if you are willing to use the compatible cartridges. We try not to mention compatible costs in our reviews as we want you to to consider printers using any input, with the option to use compatibles if so desired, but the difference in price is too big a saving to ignore. If you're shopping for a budget printer you must consider the 'budget' cartridges. Our XP-225 compatible inks have over 100+ positive reviews, showing the quality is there at a very good price. Definitely worth a look if you're truly looking to save on costs.
Who Should Buy This Printer
Light home users that don't print more than a few hundred pages a month, whom are after a simple machine, will find the Epson XP-225 perfect for them. Handling normal documents and photos with ease, it's a solid if not slightly expensive-to-run machine.