Reviewed on: February 2018
Suitable For
Home users that want a printer more for document printing than photos, without getting a larger office machine. There are better office printers and home printers we recommend buying, but there are definitely worse printers out there.
Features & Connectivity
The Canon Pixma printers all have a fairly similar feature set, and the TR7550 will give you:
Wireless

Scanner and Copier
Fax
20-sheet Automatic Document Feeder
Apple AirPrint and Google Cloud Print
Auto 2-sided printing (duplex)
7.5cm touchscreen
Two way paper feeding

200 sheet paper tray
100 sheet paper feed
Two way paper feeding is a nice touch, allowing you to feed from both the front and rear of the printer. This allows you to load different paper sizes without having to fuss switching around between prints.
Print Speed & Quality
Print speed averages around 10 pages per minute on normal documents, which is okay for small home office printers, but not the best. If the performance of the printer was awesome, a medium printing speed would be acceptable but...
... the quality of this Canon is slightly disappointing, Their previous range of printers in the TS range were fantastic machines that dominated our top printer recommendations the past 12 months, with great all-round quality. This TR7550 doesn't come close to that quality. The black print quality especially has a very "budget" feel, with text that isn't crisp or sharp, and the same happens to most of your mono document prints. Even graphs come out grainy which is never good.
Strangely for a printer that's meant to excel for an office environment, the TR7550 has far better photo print quality, with bright vivid colours and accurate reproduction. There are better photo printers to buy so that point is fairly moot, leaving the TR7550 trying to be too many things but excelling in none of them.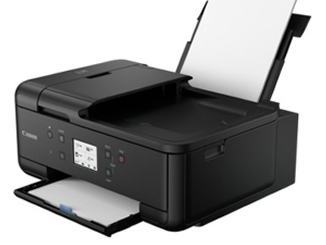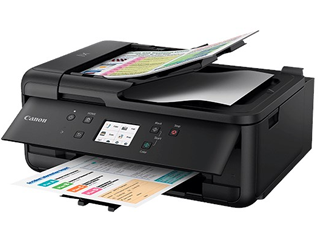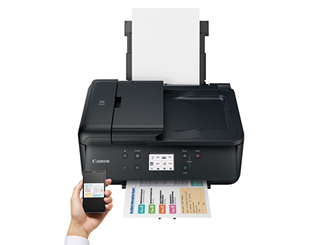 Cartridges & Running Costs
Teh Canon Pixma TR7550 is familiar to most upper model Pixma printers in that it takes five cartridges. You have one "fat" black, the PGi-580, which is used for text and document printing, and four individual colours (including a second black), the CLi-581 range, which are used for image and graphical printing. Each cartridge comes in standard, high and extra high capacity versions letting you choose the inks and price that suits your usage.
The addition of the third tier "extra high capacity" adds a somewhat unnecssary choice in our opinion. The capacity in the standard inks, of up to 200 pages per cartridge, is so small that they may as well have removed that range and had the high capacity and the extra high capacity instead. The page yield in the extra high capacity isn't even that high, with the XXL PGi-580 ink only doing up to 600 pages, pretty small for an office machine.
Running costs are expensive for an office focused machine, working out over 2.5p per page using all the colours and a mammoth 3p per page just using the black pgi-580 cartridge. This is acceptable in photo printers where usage is focused on images and quality, but aiming a printer at the office environment with such high running costs, on small capacity cartridges.. not smart.
Who Should Buy This Printer
Not many people to be honest. It's a sub-par printer for what it is aimed at, office printing, and there are far better options out there for the same price. If you end up with this machine then it will perform okay, and give decent quality, but don't go out of your way to get it.