Reviewed on: May 2017
Suitable For
Any semi-pro or pro photographers working on a budet, or anyone needing excellent A3 photo printing without spending thousands for the initial printer. This printer is more suited to glossy than matte prints, but if you're printing glossy you'll love the performance.
Features & Connectivity
As with most dedicated A3 photo printers, you're paying for the print quality and media handling, not a huge feature list. The Canon Pixma Pro 100 gets you:
Wireless
USB & Ethernet
A3+ paper size
150 sheet paper tray (standard)
CD Printing
PictBridge support
Direct printing
Print Speed & Quality
Ignore Canon's claims of print speed, with the quite ridiculous claim of an A3+ bordered photo in 90 seconds. Sure, you can hit this with a standard image at normal quality, but that's not the kind of printing this machine will be doing. You're looking at roughly 6 minutes per borderless A3 print, and amazingly the maths holds when you halve that print size to A4 with close to a 3 minute average print time (with borderless).
The print quality is superb, incredibly close to the more expensive A3 models in the Canon repertoire but at a fraction of the price to achieve. Glossy prints especially are brilliant, with vibrant colours that are excellent, greyscale prints are also brilliant with superb shadows in particular.
The most important thing to note with print quality is, due to using dye based inks, matte paper print quality isn't as impressive as glossy paper results. If you'll be printing onto matte paper we'd advise spending slightly more for a Canon using their pigment inks, or one of the cheaper Epson models, to ensure pigment inks that suit matte paper better. Though the Pro 100's results are still pretty good, the colours appear slightly washed out on matte than you'd expect to see.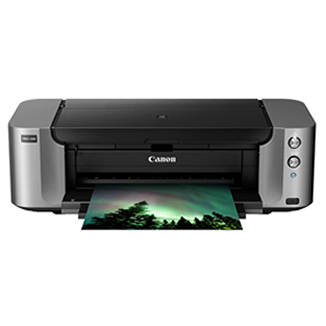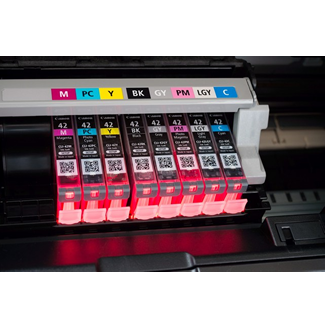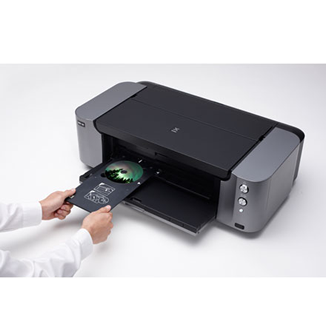 Cartridges & Running Costs
The Canon Pro 100 uses 8 ink cartridges; the standard four colours you're used to plus a Grey, Light Grey, Photo Cyan and Photo Magenta. These additional colours increase the possible colour gamut the printer can achieve, which give fantastic results as we mentioned in the print quality section. This is four less cartridges than the flagship model in the A3 Canon range, the Pixma Pro-1, but the print quality is so close that you can't really tell.
The disadvantage of these ink cartridges is they come in with only 13ml capacities, far lower than the high capacity inks of 36ml you can get in the higher models. This means your printing works out slightly more expensive in the long run, and you'll be replacing ink cartridges more often.
The cartridges in the Canon Pro 100 are all dye based which means your prints have a natural glossy finish. This gives the advantage of not needing a Chroma optimiser cartridge, saving on expense, but it does mean prints suffer slightly on matte surfaces.
Running costs work out around 2.1p per page on Canon's expected page yields, but this varies hugely on what size picture you're printing and what colours they comprise.
Who Should Buy This Printer
Any aspiring photographer or small professional will love this printer, allowing small budgets to produce fantastic prints at A3 size which were typically out of financial range.