Reviewed on: February 2015
Suitable For
The Canon MG7550 is designed specifically for home photo printing. It can be used as a standard home printer, with a large dedicated black for 'normal' printing and all-in-one functionality to suit varied home use, but it really shines when printing colours and images.
Features & Connectivity
Canon have made the MG7550 feature rich to help you make the most of its stunning image printing:
- Wireless & network port
- Duplex (2-sided printing)
- Scanner & copier
- 8.8cm Touchscreen
- Near-Field Communication (NFC)
- AirPrint & Cloud Print
- Card readers
- CD printing
- Twin paper trays
The hardware on the MG7550 is more than adequate and will help any aspiring photographers print their images whether connected wireless, using a networked PC or using some form of mobile device. The only real connection you're missing is a front USB but we doubt this will be missed too heavily due to the amount of wireless printing options available.
The addition of NFC is interesting, allowing you to touch an NFC-enabled mobile device to the edge of the MG7550's control panel to have it added to that mobile's printer list. We haven't been able to test this yet but other comments have been positive.
We say on every Printer Review that if you need accurate image scanning we advise a dedicated stand-alone scanner and the MG7550 is no different. It can handle standard documents fine, but images and photos will leave colours looking washed out. Otherwise the scanner works great and even handles scanning to cloud services like Google Drive & Dropbox which is really handy.
The twin paper trays and print-to-CD features are very simple and you can find clear guides on how to use them online or with the included Canon guides. All-in-all a very solid printer with everything you need.
Print Speed & Quality
The Canon MG7550 has a respectable printspeed for a home inkjet, with standard documents working out close to 10 pages per minute (ppm). Photos are understandably far slower but it is well worth the wait with some of the best photo print quality we have seen.
You often hear statements like "vibrant", "true to life" and "rich" being banded out (often by us), but the MG7550 really does the adjectives justice. While you may have to wait nearly a minute for a typical 6x4 print on highest settings, that print will be superb. As we mentioned in the overview this printer is one the best home photo printers we've tested. It can handle bright summer photos, deep greyscale images, sepia masterpieces or fleshy tones with ease. Highly recommended.
The printer can be a bit noisier than competitors when creating its masterpieces. This doesn't particularly bother us for the home environment as we'd rather a printer does a job well than quietly but it's worth noting just incase.
One final point - if you're duplexing colour it will be very slow as the printer has to wait for the ink to dry before turning the page. The duplexer works fine and is very, very handy, but large documents being duplexed may take a while. Don't expect faster than 3-4ppm.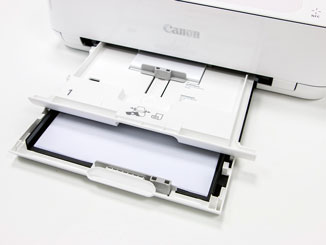 Cartridges & Running Costs
This printer takes 6 difference cartridges, easily installed by lifting the main lid of the Canon printer. They're clearly marked as you can see in the above image, and they have Canon's patented light system which shines when the cartridge is installed correctly and working fine.
The larger "fat" black is used for all your text and 'normal' documents while the thinner black is designed for photos, making it really easy to keep a tab on your usage and make sure you have a spare that suits your printing needs. The extra grey is designed to give you a wider possible colour gamut so your printouts are even closer to your actual image.
You can see live prices for these cartridges at the bottom of this review or get a more detailed list of Canon MG7550 inks here.
As a photo printer it is very difficult to comment on running costs, they vary hugely depending on the size of photos you print and the colours involved. The easiest summary we can give is the cost-per-photo will be on a par or very slightly higher than other home photo printers on the market but in our opinion this small extra cost is worth it for the quality.
If you're using this printer for standard documents then running costs will be a small increase on your average home printer, at time of writing using the higher capacity Canon cartridges gives you just over 2 pence per page. Higher than you'd expect for standard home documents but this printer is far more suited to images so it is impressive it is that competitive.
Who Should Buy This Printer?
Photo enthusiasts and anyone willing to spend a bit more on their printing are perfect for the Canon MG7550. Costs will quickly mount up if you're printing more than 500 pages a month at home but otherwise it is ideal. It ticks all the boxes, has wide functionality and stunning print quality. The quickest summary we can give is it'd be the printer we'd buy for our home given the choice.
Buy the Canon Pixma MG7550 printer