Reviewed on: February 2016
Suitable For
The Canon MG5750 is our top rated Home & AirPrint printer for 2016, so it's suitable for anyone that needs a home, home photo or small-office printer. It's the series successor to our printer-of-the-year from 2015, the Canon MG5650, and comes with all the fantastic traits.
The print quality is brilliant, the feature list is long and the performance is both easy to use and reliable. It's just a great all encompassing printer. It's also ideal if you need to print on the go, with AirPrint, Google Cloud Print support plus Canon's own PRINT app for any other mobile or tablet printing you need.
Features & Connectivity
The Canon MG5750 has all the bells and whistles you'll need in a printer:
Wireless
AirPrint & Google Cloud Print
Mobile & Tablet Printing
Print from & Scan to the cloud
Automatic 2-sided printing
Borderless printing
100 sheet paper tray
The Canon MG5750 works with Windows 10 and OS X without issue, so you should be ready to just unbox it, setup and go.
The main area to focus on with this printer, ease of use aside, is the amount of 'helpful software' Canon bundle with it. We use helpful software loosely here, there is an awful lot of 'features' there which you won't need, and we heavily recommend you do not just install the default settings. Take the time to select what you need and only install the necessities.
Print Speed & Quality
Print quality is where most Canon printers shine and the MG5750 is no different, with exceptional quality on work documents and (especially) colour prints and photographs. This isn't surprising as it's essentially the same printer as the recently discontinued MG5650, our printer of the year last year. Colours are great, photos are good enough to frame and display, even monochrome prints perform well.
Print speed is acceptable but it won't blow your socks off. Allowing for the initial loading time for a job (where the printer primes itself etc) you'll see around 10 pages per minute print speed on your everyday printing. Images and photographs are obviously a bit slower, but they're fast enough you won't notice. Obviously if you're in a busy office you'll need a faster machine, but in that case you're reading the wrong reviews and need to head over to our Office guides.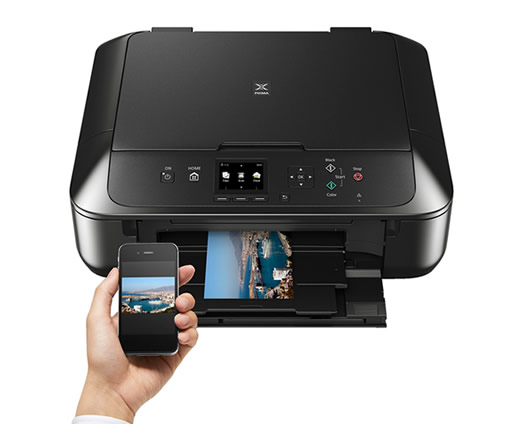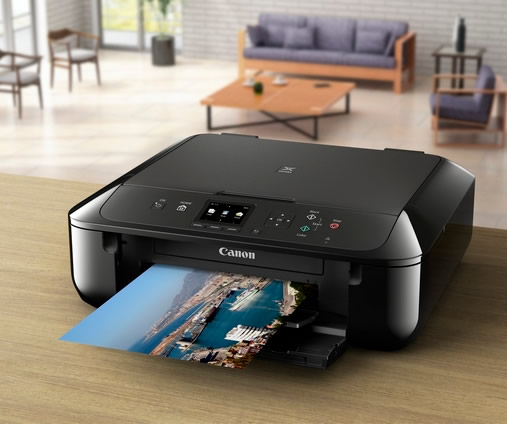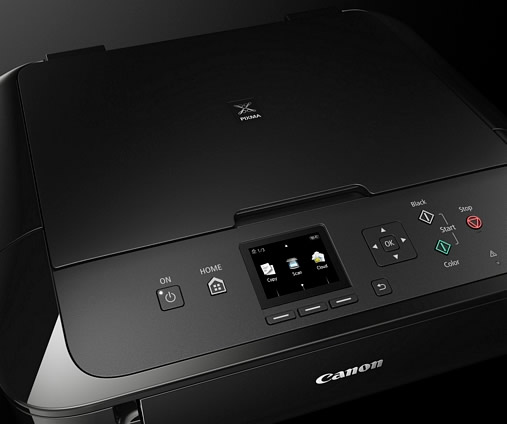 Cartridges & Running Costs
Similar to our other best buy Canon printers, the MG5750 takes five cartridges. You have one large black (the PGi-570) that handles your text and document printing, then 4 individual colours (including a different black) that it uses for your images and colour printing.
The originals are competitive with other printers on running costs, buying a full set of the high capacity cartridges works out under 2p per page. This works out equal in cost to HP's main printer lines, and significantly cheaper than Epson's that come in around 2.7p per page. The easy way to look at it is you'll only find cheaper running costs when using genuine cartridges in office focused machines that have far larger yields. For printers in the home or photo market the Canon MG5750 is up there with the best.
Compatibles are available and, like most compatible Canon inks, give fantastic quality and reliability. They aced all of our testing requirements and customers are loving them. They drop in as normal and save you a huge amount of money when printing, adding an extra benefit to this brilliant printer.
Who Should Buy This Printer
The Canon MG5750 is, at time of writing, the best printer to buy in 2016 so far. It has exceptional quality, good runing costs, ease of use and features galore. Unless you're a busy office or a light user, this printer will be fantastic. Enjoy!