Reviewed on: March 2015
Suitable For
Any home or small office that do as much colour printing as they do standard documents, and want a mid-priced machine. A fantastic all-rounder that will handle anything you throw at it. (Disclaimer: kitchen sink excluded)
Features & Connectivity
You get a huge amount of functionality in the MG5650 for the price tag:
- Wireless
- AirPrint and Google Cloud Print
- Auto 2-sided printing (duplex)
- Scanner
- 100 sheet paper tray
- Borderless printing
- Wireless PictBridge
One feature missing is the ability to print directly through a USB or card reader, but this is slightly compensated for by all of the Wireless-direct print options. You even have wireless PictBridge, so if you have a wireless camera you don't need a cable to use the printer. If all this wireless mumbo-jumbo is overwhelming you've got a rear USB port to connect directly to a PC instead, but it doesn't come with a cable so make sure to order one at the same time.
Otherwise you've got everything a home printer needs; you can print from and scan to the cloud, you have 2-sided printing to save paper, borderless printing for all of the photo's you need, mobile printing support for tablets etc. Even the paper tray is larger than normal printers, with a capacity of 100 sheets, making it more than adequate for frequent use.
Print Speed & Quality
The Canon MG5650 is impressively quick for a printer in this price range. A first page comes out in around 10 seconds once you've sent it to print, and normal documents come close to 11 pages per minute (ppm) which is more than fast enough for users this printer is aimed at. Image printing is understandably much slower, especially if you set it to best, but you shouldn't be rushing photo quality images anyway so we won't look too much in that. So how was the photo printing...
Superb. Photo and colour printing on this machine is fantastic, especially when using proper photo paper (which you should be doing). Colours are vivid with excellent detail and they're on par with printers that cost far more to buy. Work documents are more than good enough as you'd expect, but if you're not planning on printing some colour documents there are other printers far more suited to you. Overall a massive thumbs up for this printer and its perfect for any mixed printing requirement.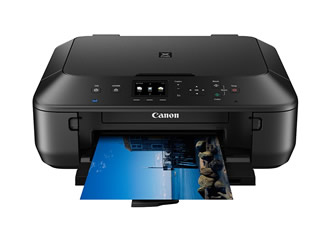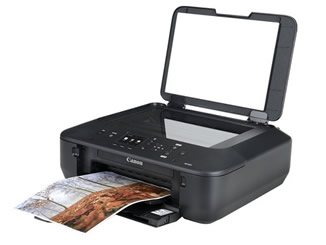 Cartridges & Running Costs
The MG5650 takes 5 separate Canon cartridges, one large dedicated black for all document printing and then 4 thinner colour cartridges (including a 2nd black) for all the image and photo printing. This is a great little system, giving you the best quality for what you're printing and easily letting you monitor your usage. Installation is simple, lift the lid to reveal the cartridges where each ink clips in and out, shut the lid and after a quick initialisation process you're done and ready to go.
The LCD display gives you clear ink readings so you know when each cartridge will need replacing, helping avoid the sudden "cartridge empty" message. When you do look to buy the cartridges you'll be happy to find they're similarly priced to other inkjet models and come in 2 capacities, a standard and high yield (XL) version. As long as you heed our recommendation and always use the XL inks you'll find your costs average between 1.5 to 2 pence per page, depending on the amount of colour you use etc. This is competitive with other inkjets and a reasonable enough figure. However...
There is one large downside to this printer - it uses a lot of ink to "maintain" itself if left unused. If you print fairly infrequently, less than a few pages every other day, you will waste A LOT of ink and we'd heavily recommend avoiding this printer. As long as you'll be using your printer a reasonable amount you'll limit the maintenance cycles it does, saving ink and ensuring it remains economical. It's a shame, the MG5650 would have been a certain 5* printer without this 'feature'.
Who Should Buy This Printer
The Canon MG5650 is a fantastic all-round machine that is tailor-made for home, home office or small office environments that need very good colour printing plus the ability to scan & print normal documents. There are slightly better printers for quality and running costs but they all cost far more to buy, so if you want an excellent printer you won't beat the MG5650.