Reviewed on: February 2015
Suitable For
Any small or medium sized office could find a home for the MB2350. It is cheap to buy and run with all the functions and options an office needs. It has particularly good image printing, as you'd expect from a Canon, making it perfect for offices with lots of colour documents.
Features & Connectivity
The Canon MB2350 is fairly all encompassing with its features, amazingly so considering the low purchase cost:
- Wireless & Networking
- Duplex (2-sided printing)
- Fax
- Scanner with Automatic Document Feeder (ADF)
- Print and Scan-to USB
- Apple AirPrint & Cloud Printing
Surprisingly, for a cheap office printer, you get two paper trays each with a capacity of 250 sheets. This means you can keep one tray for A4 paper whilst the other tray is your mix-and-match for different printing requirements, whether it's changing paper type for photo prints, or paper size for leaflets and handouts. A very nifty addition.
AirPrint compatability and support for the major Cloud and Mobile printing services gives this office printer an added bonus, combined with the front-facing USB port you have numerous ways to get the most out of your printer and prepare any documents you need quickly.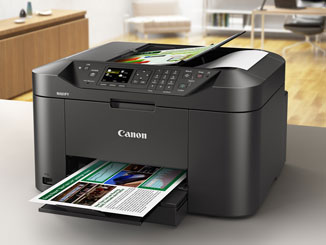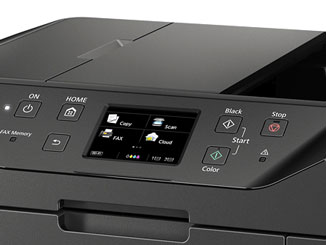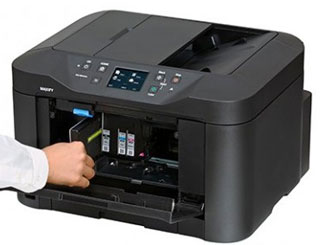 Print Speed & Quality
Canon have made big strides in "speeding up" their inkjets without damaging print quality. Whilst they're nowhere near HP's Pagewide technology of up to 55 pages per minute (ppm) the MB2350 approaches speeds of up to 20ppm on black and 15 ppm on colour which is very respectable and more than suitable for most offices. It also manages a solid 10ppm when duplexing which is nice and speedy.
The quality is as you'd expect from a Canon (there's a reason they're Stinkyink-Matt's favourite manufacturer). Blacks are very respectable and just as good as laser printers, but the colour is where this Canon shines as an office machine. Colours are bright and vibrant and, fantastically, you can throw photo paper into this office machine and get some really high quality image prints perfect for handouts.
It's obviously nowhere near the quality of dedicated photo printers but for an office machine it is superb and a real boon for this model - it's just a shame the Canon machine does not offer borderless prints to complete the package. If you can handle edges on your prints and your office needs colour this Canon comes highly recommended.
Cartridges & Running Costs
The MB2350 utilises four separate colour ink cartridges from the PGi-1500XL range, with the small downside that there is only one cartridge size for each colour. You've got a black with a quoted 1,200 pages and then colours quoted between 780-1,020 pages each (they differ slightly based on expected usage).
Installation is as simple as it gets, folding down a front slot in the printer to slide the necessary cartridges in and out. No hassle with the side of the machine or moving lots of levers & doors, excellent.
The PGi-1550 Canon inks give a very competitive running cost for an office printer, with costs around 1p per page depending on whether you buy the inks in the multipack or individually as you need them. That's very competitive with most office printers around and is a real perk of the machine. If only the cartridges had a higher capacity, if you find your office prints more than 3-4,000 pages a month you might start to tire of changing cartridges. Lower than that though and you're golden.
There's a list of up to date cartridge costs for this printer at the bottom of this page, or see a full list of the Canon MB2350 ink here.
Who Should Buy This Printer?
This MB2350 is most suited to a small office, and it's perfect for offices printing up to 4,000 pages a month. It is so well priced, with a huge range of features and very good colour prints, it is probably worth considering upgrading to even if you're only after a mono printer. You never know when colour will come in handy. A very good performance with no real weakness, we recommend it.