Reviewed on: March 2015
Suitable For
Any busy home or small-office that needs a quick, small mono printer. It's a basic mono printer that does everything well, just don't buy it if you print more than 1,000 pages a month or you'll find yourself re-filling the paper tray endlessly.
Features & Connectivity
Due to being a basic printer aimed at the small office market the LBP-6230dw comes with limited features:
- Wireless & Ethernet
- Automatic 2 sided printing (duplex)
- 250 sheet paper tray

One disappointing aspect is the lack of "upgrade" options for this printer, particularly with the paper tray. With just one 250 sheet tray, and no option to add an extra, you're left with limited paper handling that anyone larger than a small office will quickly burn through. You do have a single-sheet manual feed for any thicker media you might want to use but we imagine this would have limited use.
Wireless is easy to set-up with the onboard WPS button, two button clicks and you're done. Annoyingly the LBP-6230dw offers quite limited mobile printing options. Yes, you can print from an Apple or Android device, but you have to use Canon's printing app which will print through your network to your printer. If they had allowed AirPrint or Google Cloud functionality it would have been far better, as this allows you to print direct to your printer and works out far easier to use.
If you're not interested in networking or mobile printing this printer has a rear USB to connect direct to a PC, but it doesn't come with a cable so make sure to have one handy!
Print Speed & Quality
One strength of the LBP-6230dw is its print speed. It has a particuarly fast first-page print time for a laser, getting a page out in under 10 seconds, and multiple page documents come in at a speedy 13 pages per minute (ppm). Even double sided printing reaches 10ppm making this Canon more than fast enough for a busy office, which really makes you question why it has such a limited paper tray.
Print quality is up to the standard of similar laser printers in the market, with strong black text that is both clear and consistent. Whether you shrink text down to smaller fonts or blow them up into a thick-lined header the text was always legible and solid, a thumbs up for any work you need to push through the LBP-6230dw.
The only downside of the print quality is its "colour" printing. As a mono printer it obviously converts these colours to greyscale, but on our test diagrams and charts the greys were quite similar and hard to differentiate. If you find yourself sending colour through this machine make sure they differ widely to be noticeable on the page.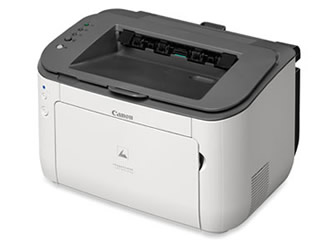 Cartridges & Running Costs
The LBP-6230dw only has one consumable, the Canon 726 cartridge that is the toner and drum combined. This aids the simplicity of the printer but frustratingly it only comes in one capacity. a 2,100 page cartridge, there's no high capacity option for higher volume users. Combined with the small paper tray it's the final reason you won't see this printer in offices printing more than a few thousand pages a month, a shame considering it's quality and ease of use.
Installation is simple, as you'd expect for a single-consumable machine. You lift the lid of the printer to find the cartridge fully exposed and ready to remove. Click the replacement cartridge in, shut the lid and you're good to go.
The running cost for this single cartridge is higher than you'd expect - just under 2.5p per page. This is expensive for a mono laser printer, nearly double that of our top recommended mono printer the Samsung M2835dw. The Canon may be cheaper to buy up front (at time of writing) but the costs will quickly mount up if you're printing a fair amount.
Who Should Buy This Printer
Any home or small-office needing a small, unobtrusive mono printer. This LBP-6230dw is an efficient machine that is simple to use, the only downside is slightly high printing costs. If you can cope with that you'll love this machine.