The amount of ink a cartridge/printer uses is not a helpful thing to search by. This is heavily skewed by how much ink is in a cartridge and how many cartridges it needs to work!
What you're actually after is a printer with the lowest running cost... how many pages you can get out of your printer for the money you spend. The most bang for your buck! This is the perfect place for you, with the top 5 printer cartridges for cheap printing costs. Click through to each product and you'll find a clear list of printers that cartridge works in!
The 5 Cheapest Ink Cartridges By Running Costs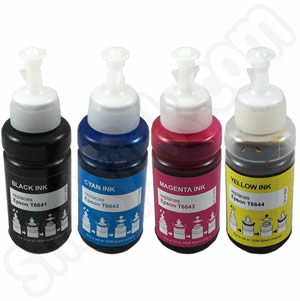 Part of the Epson Ecotank range of printers, the T664 bottles give incredibly low running costs across the entire range.

With up to 4,000 page yields in the black and 6,500 in the colour, these cartridges are aimed at home and office users who aren't after photo performance but just want document worse horses at a low price.
View the Epson T664 compatible bottles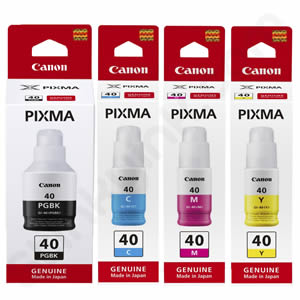 Canon's competition for the Epson ecotank range, they go in fewer printers but have the exact same target audience. Home or small office users with no photo printing intentions but the need for documents... many, many, documents.
They have larger yields than the Epson bottles so, though they have slightly higher running costs, they'll last longer per order. There's up to 6,000 page yields in the black and 7,700 in the colour.
View the Canon GI-40 ink bottles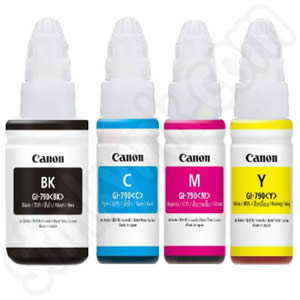 Not content with one range within the top 3, Canon has a separate range of ink bottles closely following the GI-40 range.
They're nearly identical in performance, quality and yield, with a slightly smaller yield per colour at up to 7,000 pages. Going in more printer models than the GI-40, you might have more luck finding a machine that takes these.
View the Canon GI-590 ink bottles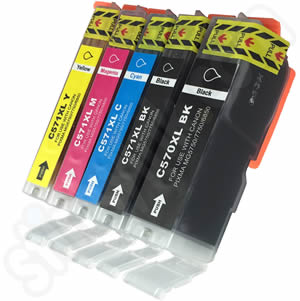 The first true "home printer" range in the cheapest cartridges to print with, the compatible CLi-571 range are one of the top selling printers and cartridges for obvious reasons. They mix great low running costs with, finally in this list, the ability to print photos well.

They don't have the same large yield as previous entrants in this list, due to being more for the home printer market, but that doesn't take anything away from how good value they are.

View the Canon CLi-571 compatible printer ink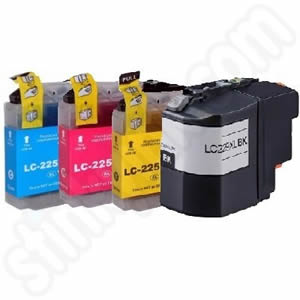 Brother make their first appearance in the list of cheap to run printer ink ranges, with one of their home/small office offerings. Containing an extra large black, perfect for people printing normal documents, you'll get very low running costs in a range of printers including (in a first for this list) some A3 printers.
These printers will be slightly harder to find for sale, if any are available at all, but if you find one it's a bargain to run!
View the Brother LC225 & LC229 compatible printer ink
What Does Cost Per Page Mean?
Cost per page is simply the cost of buying a cartridge, divided by the amount of pages a cartridge is forecast to print. So a cartridge costing £10.00 to buy and gives 500 pages would be 2p per page (1000/500).
Where Does The Page Yield Come From?
Page yield is calculated by an Industry Standard set of documents being printed, and then counting how many pages a cartridge prints before registering as empty. You will see page yields quoted as "at 5% page coverage". This is because the test documents used have 5% of the page covered with ink, which equates to roughly a paragraph of text on a page. It does not mean you will get 500 pages of full text or A4 photos from a cartridge that says 500 page yield.
This standard allows you to compare cartridge yields between manufacturers, but can be a bit misleading for setting expectations of how long a cartridge will last. FOr more information you can read about page yield here.
I Can't Find Any Printers Taking These Inks
Printer availability comes and goes, with models often unavailable to buy long before cartridges. We update this list when new cartridges come in, or old cartridges are removed, but If you end up needing to look for a different range of cartridges make sure to check the cost-per-page figures shown clearly all around our website.