What Size Epson Photo Paper Can My Printer Take?
Epson keeps paper weight and size simple for the majority of printers. If your printer does not have a rear paper feed you can take paper weight up to 255gsm.
If your printer has a rear paper feed then it depends on your printer model as you'll be able to use a varied selection of max weight/thickness.
Nearly all Epson printers take up to 255gsm weight photo paper
If you have a rear paper feed you'll be able to use thicker/heavier photo paper
It's always safer to check your printer specification than guess
The coating doesn't matter in the vast majority of printers
What Different Epson Photo Paper Can I Buy Online?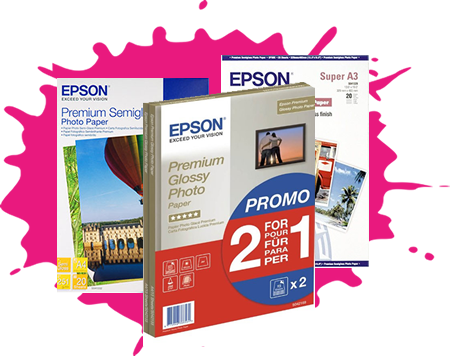 Epson has a clear and easy to follow naming and star convention for their papers. The name dictates which tier of paper you have (normal, premium, ultra), and the stars dictate which value of that tier you have. So the best of the best is a 5 star ultra tier, with 3 star "normal" tier being the entry level paper.
Epson Photo Paper Names
If your pack says Epson photo paper it's their entry level photo paper for hobbyists wanting to keep prices down but with good quality. They give great quality prints, but they're not designed for long archival life.
If your pack says Epson Premium photo paper it's the most expensive option for keen photo printing enthusiasts. They offer the best colour matching, brightness and archival time. It's more expensive, and boy is it worth it.
Epson Ultra paper is the best of the best. It's unlikely you own this paper without knowing what you're buying already as it's very niche and very good.
Epson Photo Paper Star Rating
The stars dictate what level of paper you have within your named tier. There are three levels, with five star the best (and likely heaviest photo paper) in that range. 3 star will be the entry level photo paper for that Epson range, and 4 star sits you nicely in the middle.