What Size Canon Photo Paper Can I Use?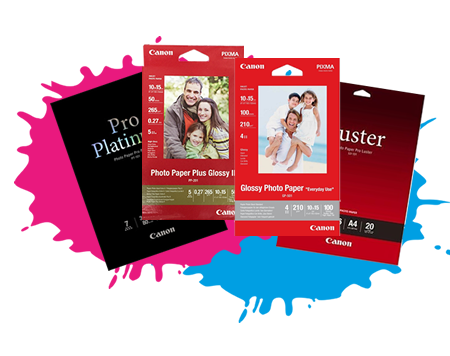 The majority of Canon printers, especially those in the Pixma family, can take photo paper up to 300gsm. This covers nearly the entire range of Canon photo paper.
Canon paper comes in a majority of sizes within this weight range, including 6x4, 10x15 and A4 Canon paper, and most printers take every single one. If you're worried just check your printer specification or manual for a max gsm or size.
Nearly all Canon home printers take up to 300gsm paper.
Home and Photo Canon printers take all common sizes; 6x4, 10x15 and A4.
Anything larger or heavier needs checking in your printer spec
What Are The Different Canon Photo Paper To Buy Online?
Canon has a super simple naming system so you know the kind of paper you're buying.
Canon Everyday GP-510 photo paper is the economical way to print photos. GP lets you know it's Glossy paper, and the Everyday name is their range of budget photo paper options. Perfect for good value photos that will last, without breaking the bank.
Perfect for: People wanting nice photos for as cheap as possible with Canon photo paper.
Canon Glossy II PP-201 is the next tier up for glossy photo printing, the most common kind of prints. PP indicates the glossy coating and Plus lets you know you're shopping above the Everyday range! The best selling range of Canon paper if you're after a starting point.
Perfect for: Home users and photo enthusiasts.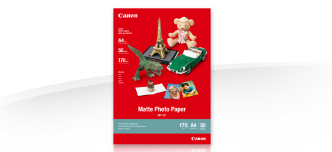 Canon Matte MP-101 photo paper is your Matte paper option, signified by the MP. If you're after non-reflective paper to store in bright rooms, Matte is the way to go.
Perfect for: Photo prints to be displayed in bright, well lit rooms.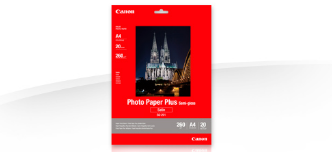 Canon Semi-gloss SG-201 photo paper is the semi-gloss option for your Canon printer, you'll never guess what the SG stands for! If you want a mid-way paper between glossy and matte, this is the paper for you.
Perfect for: People wanting the best of both worlds, bright vivid colours from gloss with slightly less reflectiveness for bright rooms.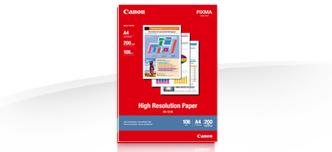 Canon High Resolution HR-101N photo paper is high resolution photo paper designed for graphics and prints for handouts. With a coating designed to be handled without affecting the final print quality or colour acccuracy, the HR paper is less for photos to display and more for professional documents.
Perfect for: Handouts and documents that will be handled.
Any other Canon paper that doesn't fit these five benchmarks are specialist media. It will either, in all likelihood, not be suitable for you, or you'll already know what it does! If you find any papers you're unsure of just ask and Stinkyink is happy to help. Otherwise happy printing with all your Canon photo paper.